With more than 900 million active users, WhatsApp is one of the most commonly used messaging apps worldwide. Two of the major reasons for its popularity are, the user-friendly interface and availability almost on every platform. The app keeps growing and bringing new features and two of its latest features – free voice calling and browser version make it the most admired free messaging app. While it is a very simple app, there are many tips and tricks not known to everyone. Let us take a look at some of them. If you need to see the larger versions of the images, click on them.
WhatsApp Tips and Tricks
1] Star the important messages
Starring a message helps you finding it later when needed. You can see the Star icon on your message window. Just select your important messages by pressing them long and click on the Star icon.  
To view your Starred messages, click on the three dots and select Starred messages from the drop-down menu.
2] Mail all your conversations
If you want to store any of your conversations somewhere, you can mail it to your inbox. Open the chat window; press-hold the chat you want to save, click on Menu –> select More –> and click on Email Chat. A pop-up will ask if you want to attach media with chat, select the desired option, follow the instructions and you are done.
3] Broadcast Messages
As we use CC and BCC to send an email to a group of people, you can send the group SMS to many people with a WhatsApp broadcast message. You can send one message to everyone, but you will receive the replies personally. Basically, you can send a public message privately with the WhatsApp broadcast. 
To send a broadcast message, go to the main window of WhatsApp, tap on Menu and select 'New Broadcast'. Select all contacts you want to send the message.
Settings on iPhone are a bit different. The Broadcast List button is shown on the top of the chat screen in iPhones. To create a new broadcast, you need to tap on New List at the bottom of the chat screen and add the contacts.
4] Hide Last Seen, Profile Picture and Status
If you don't want anyone to see till what time you were online, you can hide your Last Seen. Open WhatsApp, go to Menu –> Settings –> Account –> Privacy –>select the desired option under the tab Last Seen. You can make it visible to everyone, only your contacts or nobody.
5] Make your Profile Picture Visible to Everyone of No-One
We don't want to show our DP (display picture) to everyone, and WhatsApp has a setting option for the same. You can select Everyone, Your Contacts of Nobody to see your profile picture. Go to Menu –> Settings –> Account –> Privacy –> Profile Photo –> Select the desired option.
6] Stop your Read Receipts
Double blue ticks are the Read receipts in WhatsApp. If you want no-one to get your Read receipts, click on the three vertical dots on the top right of your WhatsApp screen and go to Settings. Go to Account –> Privacy –> and uncheck Read Receipts. So you are not bound to reply, and no one can now know if you have read their messages or not. But remember that if you adjust these settings, even you won't be getting the Read Receipts from others.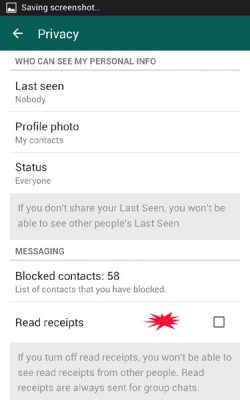 7] Change Chat Background
You can easily change your chat background. Open any of your chat windows, go to the Menu and click on Wallpaper. You can remove the wallpaper, set the default wallpaper, download the WhatsApp wallpaper package or can select any of your pictures as the wallpaper.
8] Share Your Location
Share your location via WhatsApp and your friend can trace you in real-time. To share your location with a WhatsApp friend, click on the attachment icon on the top right corner of your chat window and select Location. Do not forget to enable your GPS first.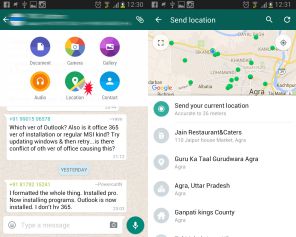 9] Use WhatsApp on PC
Open web.whatsapp.com on your PC and simultaneously open WhatsApp on your phone, click on Menu and select WhatsApp Web. Your PC will show a CODE which has to be scanned with your phone. Scan the code and you are connected. You can now use WhatsApp on your PC. Make sure that your phone has an internet connection.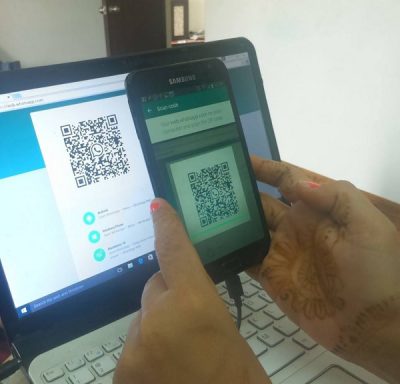 10] Group Notification Settings
You can mute a group, make the customized settings, change group icon or the group status easily. Go to any of your WhatsApp groups and click on Menu and select Group Info. Here you can change the group icon, group name, mute the group and also can customize the group notifications.
11] Media Download
Non-stop images and videos received on WhatsApp can eat up your mobile data and fill the storage space on your phone, thereby resulting in hangs. Stopping the automatic media download is the only option to avoid the jam-packed gallery and a hung phone. With these settings done, you have to tap download every time you want to download a video or an image.
Go to Settings –> Chats and Calls –> Media auto-download. You can adjust the settings here.
On the iPhone, you simply have to turn ON or OFF automatically "Save Incoming Media".
12] Chat Backup
This is one of the best features of WhatsApp, which allows you to take the complete backup of chats in your Google Drive. You can restore them anytime.
Menu –>Settings –>Chat backup.
13] Know when your message was read
Do you know, you can see when your message was delivered and read. Press long the message and click on the info icon on the top ribbon. It will show you the time your message was delivered and read.
14] Change your number
Not everyone knows, but yes, we can change our number on WhatsApp without losing any data or chats. Just go to Settings –> Account –> Change Number and enter your old and new phone numbers. WhatsApp verifies your number through call or SMS and you are done.
15] Message Pop-Up
We get a pop-up notification when we receive a WhatsApp message; you can turn it off, though. Just go to Settings -> Notifications –> Popup notification and adjust the settings accordingly.
Every pop-up notification shows the message preview also, which may lead to some embarrassment sometimes. If you are an iPhone user, you can turn off the previews, but sadly this setting is not available for Android phones.
To hide the preview of messages with notifications, go to Settings -> Notifications and turn off "Show Preview.
16] Read a Message Without Going Online
Do you know that you can read a message without going online? Yes, we can! There are times when we don't want to go online but have to read some important messages. To do so, turn your mobile data off and then read the message. This way you can read the message without going online.
17] Run Different WhatsApp Accounts on your Dual sim Device
WhatsApp restricts users to have only one account, but if you have a dual sim Android device, you can run multiple WhatsApp accounts on a single device.
Go to Settings ->Users and "Add new user". Follow the instructions and set up a new user. Once you are done, install WhatsApp on the new user account.
18] Recover Deleted WhatsApp Messages
Ever deleted your WhatsApp messages accidentally? Don't worry; you can restore your deleted WhatsApp messages. Not everyone knows, but WhatsApp backups all your messages every day at 2 am, and if you want to restore your old messages, you first need to Uninstall WhatsApp from your device.
Uninstall WhatsApp and then re-install it. While signing up for your WhatsApp account, you will get a prompt of backup messages.
Tap on 'Restore,' and WhatsApp will restore all your old messages, including the ones you deleted by mistake.
19] Delete WhatsApp Account
If in any case you want to delete your WhatsApp account, Go to Settings –> Account –> Delete my account. Follow the given instructions and your account will be deleted. Deleting the account erases all your chat history and the backups.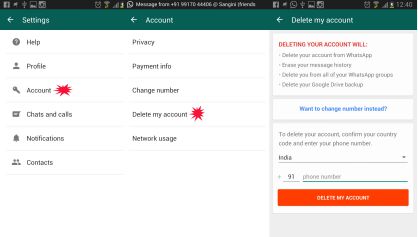 20] Send any file type
WhatsApp now lets you share all file types. Earlier you could share the only PDF, but now you can share Android APK, MP3, etc. You can send uncompressed media up to 100MB.
21] Bold, Italic, Strikethrough text
To make your text stand out, you can do the following:
Bold: Add an asterisk mark (*) before & after the text. e.g. *TWC*
Italics: Add an underscore (_) before & after the text e.g. _TWC_
Strikethrough: Add a tilde (~) before & after the text e.g. ~TWC~
22] Unlock secret WhatsApp font
Type 3 backquotes or apostrophes before and after the message. Eg. Like this:

You will unlock a secret font that looks like the one used Command Prompt.
Read: Is WhatsApp safe? WhatsApp Privacy and Security issues you should know about.
23] WhatsApp security tips
Here are things you should know:
Check your Privacy settings and control who can find you
Use Blocking feature to block unwanted messages
You can report spam or malicious content to WhatsApp.
These tips and tricks will certainly perk up your WhatsApp experience.
Do let us know if you have some more WhatsApp tips and tricks to share.
Now read:
Best WhatsApp Web tips and tricks you can use