The most popular messenger app today is WhatsApp, and despite the rise of tools such as Telegram and Signal over the past couple of years, WhatsApp has held on strongly to its crown. Now, WhatsApp is known for being a mobile app, but it can also be used on a desktop computer in the form of WhatsApp Web.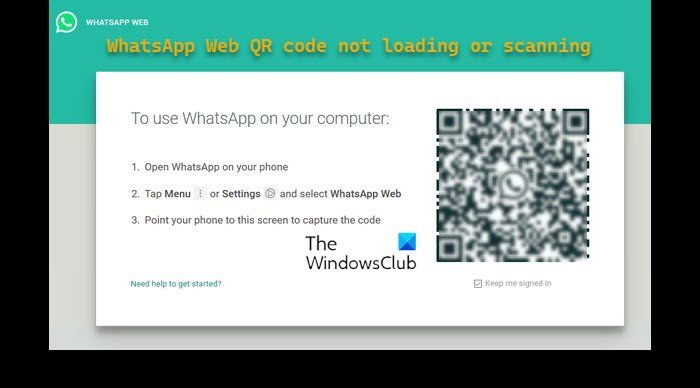 Several WhatsApp Web users have been experiencing a rather strange problem where they're unable to load the QR code. If the QR code cannot be loaded, then affected users will not be able to scan it with their smartphone in order to use WhatsApp through their web browser. The question is, what is causing the WhatsApp QR code to not load or work? Well, there could be several reasons why this is the case, and as such, we're going to discuss all of them within this article.
WhatsApp Web QR code not loading or scanning
If the WhatsApp Web QR code is not loading, working, or scanning, here are some steps you can take to resolve the issue successfully.
Log out from all connected devices
Update your web browser
Clear your web browser cache
1] Log out from all connected devices
To begin, we suggest logging out from all devices currently connected to WhatsApp. This is easy to get done. Just pop out your smartphone or tablet, and let's go.
Launch WhatsApp from your smart device.
From the main window, tap on the three-dotted button.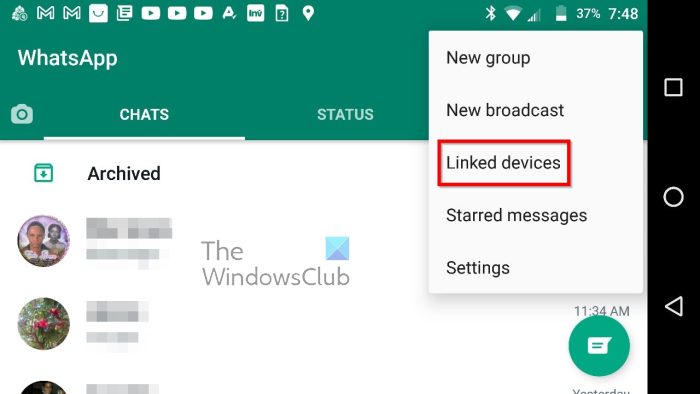 Next, you must select Linked Devices from the dropdown menu.
Tap on one of the devices.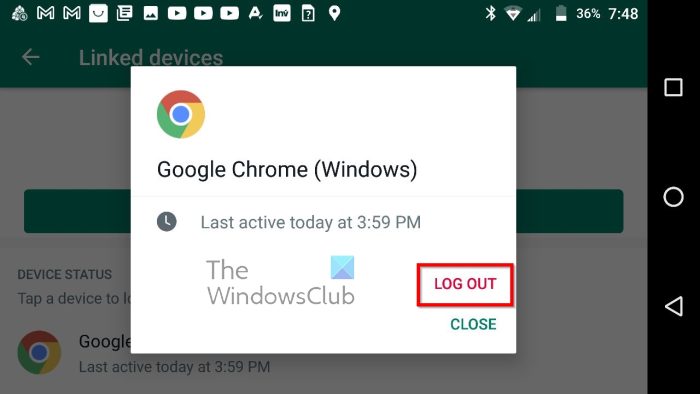 Choose Log Out to exit to no longer be connected.
Repeat the steps for other devices listed.
2] Update your web browser
In some situations, a mere browser update can solve the QR code problem once and for all, or until it returns again. This post will show you how to update Chrome, Edge, Firefox, and Opera browsers.
If you're using any other web browser not listed within the article, then leave us a message in the comment section, and we will help you out.
3] Clear your web browser cache
The next step users must take in order to ensure the QR code loads when trying to connect to WhatsApp Web, is to clear their web browser cache. If you have no idea how to accomplish this task, then please read the following:
Let us know if any of the above solutions have helped you solve the WhatsApp QR code problem.
Read: How to record WhatsApp Video Calls on Windows PC
Can we get WhatsApp web on mobile?
No, it is impossible to get WhatsApp Web for mobile devices because it wouldn't make sense since the app is available via Google Play and App Store. You may try the desktop mode, but as soon as the browser detects it's a mobile platform, it will launch the app.
Where is the WhatsApp web QR code?
The WhatsApp Web QR code will show up whenever users visit web.whatsapp.com. Once the code is up, users must scan it without their mobile device.
Can I use WhatsApp on a PC without a phone?
It is possible to use WhatsApp Web even with the phone is off. This wasn't always the case, but new updates from Meta made it possible. You can download the WhatsApp App and ensure your WhatsApp for PC is updated to the latest version.