As always, Microsoft brings a lot of new features for IT and Businesses, and Windows 10 20H2 is no exception. In fact, it gets more features than the consumer version. The features include MDM, Autopilot, Microsoft Defender, Biometric Sign-on, and more. Here is the list of all the new features for IT pros in Windows 10, version 20H2.
New features for IT pros in Windows 10 v 20H2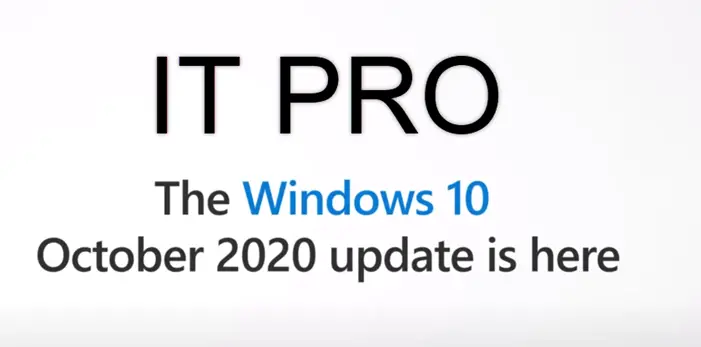 There are two sets of features that have been rolled out for IT Pros. The first set comes out of the box, while the second one needs licensing. I have marked the later one at the end of the post.
Mobile device management (MDM):  Make granular changes to Local Users and Groups on an MDM-managed Windows 10 device. It is possible using the Local Users and Groups MDM policy.
Windows Autopilot – It includes enhancements for HoloLens, Autopilot with co-management, ESP, Task Sequences, autopilot deployment reporting, and more.
Windows Autopilot for HoloLens includes Self Deploying mode with Windows Autopilot for HoloLens 2.
Windows Autopilot with co-management can be set during Autopilot deployment.
Windows Autopilot ESP + task sequences allow you to reuse task sequences to configure devices, and they can integrate right into the Enrollment Status Page (ESP).
Windows Autopilot deployment reporting helps you monitor the status of Autopilot deployments in the Microsoft Endpoint Manager admin center (Preview)
Microsoft Defender Application Guard snow available for Microsoft  Office – You can launch untrusted Office documents that come from outside the Enterprise. It will internally launch an isolated container to prevent potentially malicious content.
LCU  and SSU are now a single payload that simplifies the deployment of Latest Cumulative Updates (LCUs) and Servicing Stack Updates (SSUs) by combining them into a single cumulative monthly update. They will be available via Microsoft Catalog or Windows Server Update Services.
More secure biometric sign-on for Windows Hello offers virtualization-based security for certain fingerprint and face sensors to secure the data.
Microsoft Edge on Chromium, i.e., Windows 10 20H2, is the first version of Windows to come with Microsoft Edge on Chromium.
Windows 10 20H2 IT Pro Features that need additional licensing or services.
Cortana integration with emails from Outlook, Microsoft Teams mobile app, and Windows 10.
Universal Print is built on cloud-managed print services built on Azure allows business consumers to print anywhere, anytime. It is similar to Google Cloud print but for the Enterprise.
Windows Virtual Desktop is another Azure-based feature where you get  Virtual Desktop App virtualization service. It lets end users connect securely to a full desktop from any device with policy and apps at scale.
Microsoft Tunnel Gateway allows Microsoft Intune-enrolled iOS and Android devices to access on-premises apps and resources, with single sign-on Azure AD authentication, integrated Conditional Access policies.
Endpoint analytics aims to improve user productivity and reduce IT support costs by providing insights into the user experience.
Productivity Score helps you understand how your organization works, helping you understand the employee experience, including how collaborative your people are on their endpoints, network connectivity, and Microsoft 365 apps.
Office 365 ProPlus version comes with several enterprises, government, and education subscription plans.
Apart from these, Microsoft Defender Advanced Threat Protection has been renamed to Microsoft Defender for Endpoint. Developers can check out Project Reunion, new PowerToys in Windows Dev Center, and lastly, Test Base provides intelligent application testing from an Azure environment.
I hope the post was informative, and you were able to get an idea of the latest features for IT pros in Windows 10, version 20H2.
I highly recommend you read more on this on the official post in the Tech community, which has links to understand the topics in detail further.