Building upon the earlier release, Windows 10 Version 20H2 offers some performance improvements, enterprise features, and quality enhancements. In addition, the update extends services related to bug and security fixes by 6 more months.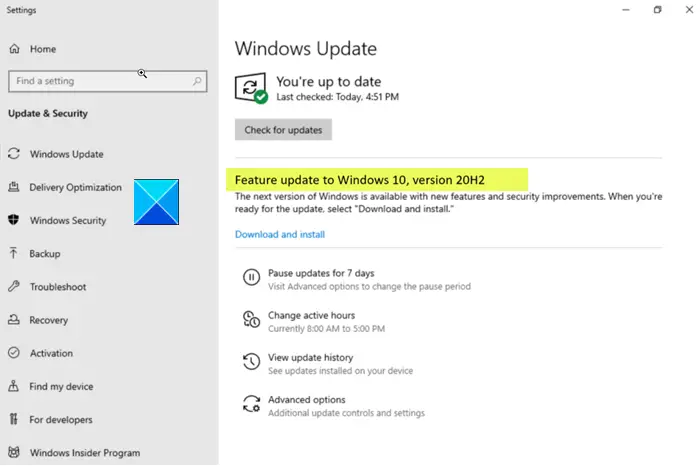 Windows 10 version 20H2 – New Features
The release of Windows 10 20H2, October 2020 Update marks the 10th major update since the original release and the second semi-annual update of the year. Find what's new in it!
Redesigned start Menu
Improved Notifications display experience
Less annoying tablet mode
New Microsoft edge
Improved settings
Personalization options
Let's cover these features in a bit of detail!
1] Redesigned start Menu
The change in the Start Menu adds more transparency to the tiles which matches the color scheme of the app. This makes your favorite apps easier to discover. Also, you can change the color of the menu, but you'll need to enable the Dark mode first. As earlier, you get an option to choose either, dark mode or a Light mode.
2] Improved Notifications display experience
The notification banner now displays the app logo to the top left and adds a clear close X mark to dismiss the notification, right away.
3] Less annoying tablet mode
The Toast notifications that showed up while switching from Desktop mode to Tablet mode have disappeared for good. Previously, it prompted users whenever they attempted to enter the dedicated tablet mode.
4] New Microsoft Edge
If you haven't installed Microsoft Edge chromium yet, the fall update does it for you. In fact, the browser comes preinstalled with the feature update. However, in comparison to its earlier iterations, the new Edge offers better performance and promises faster web page rendering. There's also a new Collections feature!
5] Improved settings
A new About page under Settings shows links to some older programs/utilities earlier found in the Control Panel. Besides, an option has been added in the Multitasking section of System Settings to show individual browser tabs when using the Alt+Tab task switcher. With this new option, you can not only switch between open apps but also the tabs in Microsoft Edge.
6] Personalization options
Lastly, an updated Advanced display settings page features a nifty option to change the monitor refresh rate. This enables smooth motion. Earlier, users had to install some third-party apps to change the same.
It's important to note here that Windows 10, versions 2004 and 20H2 share a common core operating system with an identical set of system files. As such, the new features in the update are also included in the latest monthly quality update for Windows 10, version 2004 (released October 13, 2020), but are in an inactive or dormant state and will continue to exist in that state until enabled via an 'enablement package,' a small, quick-to-install 'master switch' that activates the Windows 10, version 20H2 features.