Like Google Chrome, Microsoft Edge too, allows its users to group all the tabs kept opened in the browser. So, when you find two tabs that are related to one another in some way, you can easily group them. The tabs when grouped will be arranged in the back of the Group title. So, let's walk you through the steps to enable or disable Tab Groups in Microsoft Edge browser.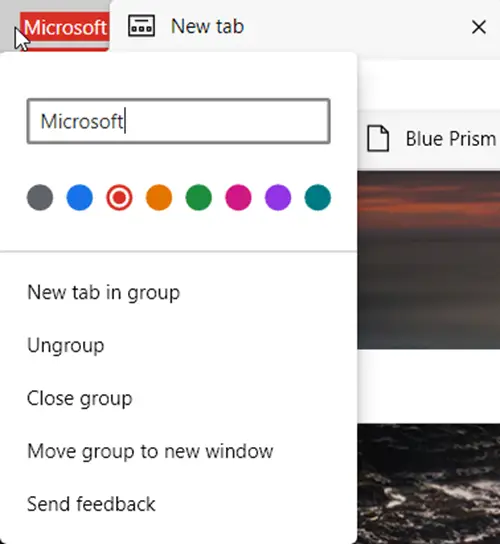 Tab Groups enable users to organize tabs into visually distinct groups. This helps in easy viewing of simplified web pages.
Enable Tab Groups in Microsoft Edge browser
To enable or disable Tab Groups in Microsoft Edge Chromium on Windows 10:
Launch Edge.
Open the edge://flags page.
Search flags for Tab Groups.
Hit the drop-down arrow and change the value from Default to Enabled.
Restart Edge.
Start adding new tabs to the existing group or create new groups.
To make a distinction between different groups, you can add different colors to the tabs. The colors are vivid and rapidly expand across tabs.
Launch the Edge browser (make sure you have updated to the latest version of the browser).
Open a new tab and type the following text in the address bar: edge://flags/#tab-groups.
Alternatively, you can type 'Tab Groups' in the 'Search flags' box and press Enter.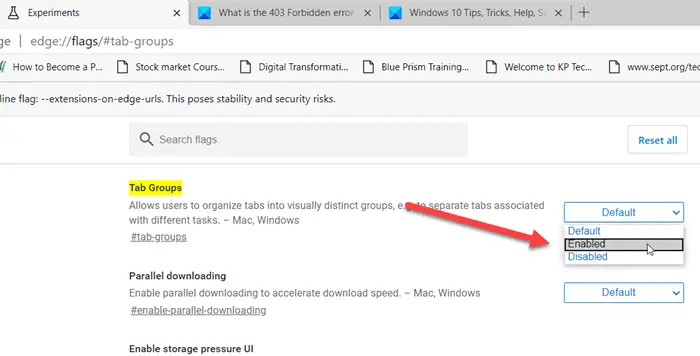 Next, when the 'Tab Groups' option appears, press the down-arrow key next to it.
The status is set to 'Default'.
Change the status from 'Default' to 'Enabled' and hit 'Enter'.
When prompted to relaunch the browser, hit the 'Relaunch' button.
Now, to start using the Tab Groups feature, right-click a tab you want to add to a new group.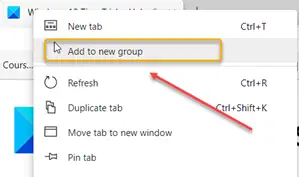 Assign it a suitable name and add the tab to a new group from the Context Menu.

Next, open another website in a new tab. Right-click it and choose 'Add to existing group' option to group the current tab with the previous tab.
Click the Group indicator in the tab bar to open a dialog box.
Here, you can 'Ungroup', 'Close group' or 'Move group to a new window'.
How to disable Tab Groups feature in Microsoft Edge
To disable the Edge Tab Groups feature:
Launch Edge
Type edge://flags/ in the address bar and press Enter
Locate Tab Groups flag
Change the default status from 'Enabled' to 'Disabled'
Restart the browser.
Read next: