The internet has become a part of our life. It is one of the necessities we have today. Without the internet, we cannot imagine our lives nowadays. When something has become such an indispensable tool in our lives, the threats they pose are also higher. We need to be careful about the links we click, the websites we browse, and the downloads we do. If we are not careful, our devices might be vulnerable to attacks that phish on our data, and details. The scams that occur via the internet are rampant and if we are not alert, we might be the next to be scammed. One such issue we face while browsing the internet is an SSL stripping attack. In this guide, we explain to you what is SSL Stripping attack and how to prevent an SSL stripping attack.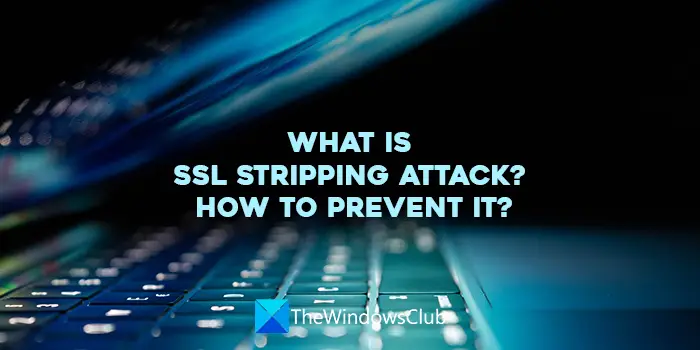 What is SSL Stripping attack?
SSL Stripping attack is a threat that makes your browser visit less secured HTTP connections by downgrading from the encrypted HTTPS connection.
To clarify, we need to understand a few things that run in the background while we access a website. Whichever website, we visit, our browser connects to them using HTTP (Hyper Text Transfer Protocol) or HTTPS (Hyper Text Transfer Protocol Secure) connection based on the site's SSL (Secure Sockets Layer) certificates. The HTTP connection is less secure and poses many threats to users. That is why security experts recommend using the HTTPS connection on every website. You can make your browser only visit HTTPS websites using browser extensions like HTTPS everywhere.
Now, coming to the SSL stripping attack, every website has an SSL certificate that verifies its identity and enables encryption of the traffic, and safeguards users' privacy. So, SSL stripping attack makes your web connection less secure and prone to cyber-attacks & threats by exposing your data, traffic, and IP address.
With an SSL stripping attack, a hacker can see your web traffic, and analyze and mimic you on the internet. The hacker pretends to be you using this attack.
For example, if you are in a conversation using an email service like Outlook, the hacker can act like a middleman and read all your conversations. The hacker sends unencrypted traffic to you and sends encrypted traffic to Outlook servers to create a red flag.
If you fall prey to SSL stripping attacks, your information can be stolen, fraudulent transactions can be made on your name, and bank accounts, or fall prey to communications that lure your friends and family into the attacks.
Read: How to create Self-signed SSL Certificates in Windows
How does an SSL stripping attack work?
SSL stripping attack works in many ways. Every connection we make to a website on the internet is first routed through HTTP and then connects to an HTTPS connection. The hackers intercept the traffic while you are still in the HTTP connection and take advantage of it.
The different ways an SSL stripping attack works are:
Address resolution protocol (ARP) spoofing
A network connects with an IP address and the MAC address using the Address resolution protocol. A MAC address is a unique identifier assigned to every single network interface card which serves as the device's physical address. To establish a connection between two devices, a MAC address is essential. To get the MAC address, the devices run ARP.
During the time a device sends ARP to obtain the MAC address of another device, the hacker spoofs it and obtains your device's MAC address thereby intercepting all the network and traffic. Spoofing ARP is one form of SSL stripping attack where your data gets stolen and traffic is unencrypted by the hacker.
Proxy Servers
Whenever you browse the internet, you connect with the device that has data of the website or app you are visiting. It is called a server. Hackers act as a server thereby eliminating the original server from your reach and intercepting your network and traffic.
Fake Wi-Fi networks
Hackers create free Wi-Fi networks to lure people into connecting to them. To make those networks, trustworthy hackers use the names of popular brands like Starbucks, Burger King, etc.  When you connect to such networks believing them to be the original networks, you fall prey to SSL stripping attacks. It exposes all your traffic and data to hackers.
Read: Best Free Online SSL Certificate Checker Tools
How to prevent SSL Stripping attack?
There are different methods you can use to protect yourself from SSL stripping attacks. They are:
Use extensions that make HTTPS connections
There are browser extensions like HTTPS Everywhere that makes your browser connect and access webpages only with an HTTPS connection. If there is no way to connect with an HTTPS connection, the extension will block the web page connection and intimate you. If you think you can trust the website, you can proceed with the connection which the extension doesn't recommend. Using such extensions makes your browser one step more secure from scams and hackers.
Visit websites that have sitewide SSL
Whenever you visit a website, you might have noticed a lock icon next to the website address in the address bar. It denotes that the site is encrypted and has an active SSL certificate. Use only websites that have those locks on every page of the website. Without a sitewide SSL, it might make you vulnerable to attacks and exposes your traffic.
Read: What is Replay Attack and how do you prevent it?
Update your browsers and extensions regularly
Major browsers like Google Chrome, Microsoft Edge, Firefox, etc. are warning users while they are about to visit an unencrypted website that has an expired SSL or no SSL certificate. Major browsers fix something and improve their features with every update so as the extensions. You need to stay updated to be able to avoid SSL stripping attacks or any other cyber security threats.
Use a VPN
A VPN is another best way to protect yourself from SSL stripping attacks as well as other cyber threats. A VPN routes your traffic through its tunnels and encrypts it. It makes it hackers hard to read or steal anything from your data and traffic.
These are the different ways you can use to protect yourself from SSL stripping attacks.
Related read: Difference between TLS and SSL encryption methods.