When browsing your storage section either through the Computer or Disk Management tool, if you notice a volume with name PortableBaseLayer, then don't be surprised. It's a virtual drive that appeared in Windows 10 and it is available in Windows 11 too. In this post, we will share more details on what is PortableBaseLayer Partition in Windows 11/10.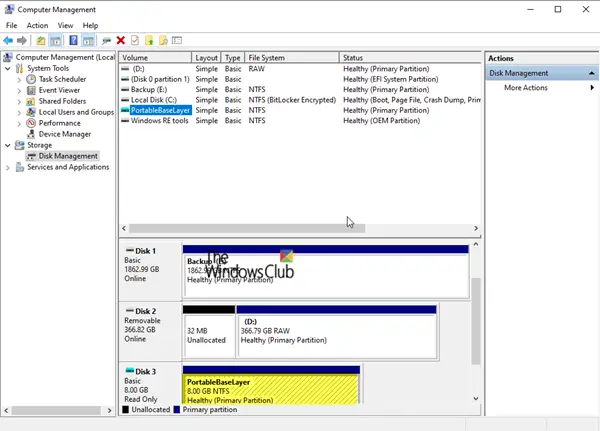 PortableBaseLayer Partition in Windows 11/10
PortableBaseLayer is a mounted virtual drive (.vhdx). I went through a lot of forum discussion on this topic. Many users claim that it is a part of Windows Sandbox. Some say that it is related to the recently announced Reserved Storage. It is not just for Sandbox, but it is special storage introduced in v1903 to accommodate Windows Update space requirements and temporary space for apps. It is even seen when you enable only Windows Defender Application Guard.
Whatever you feel, do not delete this volume. If it's there, then its because the OS wants it to be there for its usage.
Is PortableBaseLayer Partition related to Windows Sandbox
Why many claim that it is related to Sandbox because it appears when the feature is enabled and disappears when it is removed from the  Windows Features.
Sandbox feature makes sure any suspicious software doesn't get access to the OS files and compromise it. But then it doesn't need a VHD of 8GB, and it surprises the same as Reserved Storage Space. One of the users reported that in Windows Insider version build 18912, PortableBaseLayer is no longer visible, if the Sandbox is enabled.
But for now, it seems that if you disable the Sandbox, the PortableBaseLayer volume disappears.
PortableBaseLayer Partition & Reserved Storage Space
Even if you have not enabled Windows Sandbox, and you can see Reserved Storage in the Storage section, then it's because of this feature. Some Windows users, after updating to v1903, have reported about it. Unlike Sandbox, there is no way to get rid of his feature directly, but you can try changing the registry key to see if it helps.
HKEY_LOCAL_MACHINE\SOFTWARE\Microsoft\Windows\CurrentVersion\ReserveManager
ShippedWithReserves DWORD
0 = Disable (default)
1 = Enable
In case Sandbox is enabled, it's created regardless of the value of the above ShippedWithReserves DWORD.
Reserve Storage, for now, seems only to appear when you fresh install Windows 10.
Is PortableBaseLayer Partition appearing in File Explorer?
Unlikely, but if it appears in the File Explorer,  here is how to remove the listing.
Open Command Prompt window with admin privileges. Type the following command, where volumeXis the drive letter you want to remove:
mountvol volumeX /d
After typing the command, press Enter. The drive letter will no longer appear in File Explorer and Disk Management. Close the Command Prompt window.
Conclusion
There is no official Microsoft source that talks about this, but one can infer that the PortableBaseLayer virtual partition is required by Windows Sandbox, Reserved Storage Space, or maybe even the Windows Defender Application Guard protection feature. It is required by the operating system, so just let it be.