When you launch the Task Manager and switch to the Startup tab, notice there is an extra entry on top of the Startup List — Last BIOS time. In this post, we will discuss what is Last BIOS time, which you see in the Task Manager, and if you can reduce or decrease the BIOS Time.  However, before we go ahead, you should have a computer with UEFI firmware for this work. If you have BIOS, and you see the Last BIOS time as zero, then you are not alone. We will talk about that as well.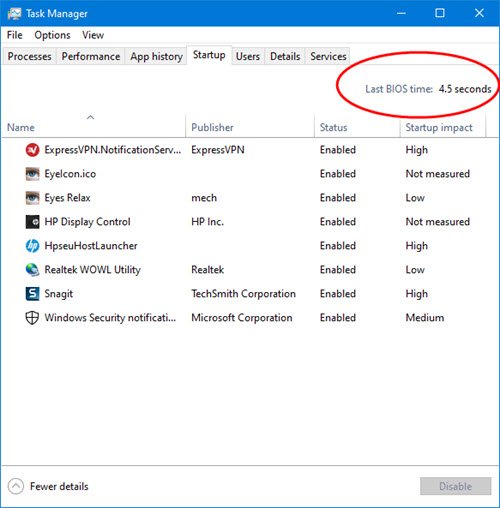 What is Last BIOS Time in Task Manager
In this post, we will discuss the following topics:
What is the Last BIOS Time?
How can you check BIOS boot time?
Why is the Last BIOS time Zero or Missing?
Can you reduce or decrease BIOS Time, if it is high, in Windows 11/10?
Just so that you should know that BIOS time is not new – it was only not enabled for all.
1] What is the Last BIOS time?
Technically it is the amount of time taken by the UEFI (BIOS) to initialize (POST) the hardware and hand it over to the Boot process to finally kickstart Windows Boot. It is the amount of time between pressing the power button and seeing the Windows Logo with those dots. When you press the power button, the first thing that loads up is the UEFI which checks for:
If the connected hardware devices are working fine
Figures out where the boot device is located, and it pools for the boot device based on the order set in the BIOS.
Fast Boot Delay time and so on.
What matters here is how fast is the connected hardware. Every component will take its time to initialize, and the more time it takes, the more the Last BIOS time. So, for example, if all your storage devices are SSD, they will take less time compared to a Hybrid configuration or pure HDD configuration. The same applies to graphics cards, memory, and so on.
2] How can you check BIOS boot time?
Press Ctrl + Shift + Eac to open the Task Manager
Switch to the Startup tab
On the left, above the table, which lists all Startup applications, there should be an entry for the Last BIOS time along with time in seconds.
3] Why is my Last BIOS time zero or missing?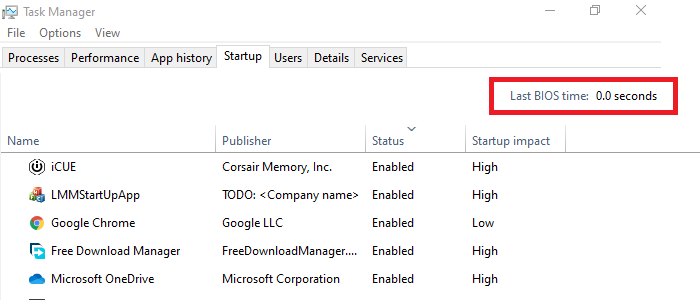 If you see that the Last BIOS time is set to zero, it doesn't mean that you have a super-powerful PC, which instantly turns on. This happens on a PC running on BIOS since Last BIOS time seems to only work with UEFI. There is one thing you can try. If you have anything which skips POST check, try disabling it. You need UEFI with Windows installed on a GPT partitioned drive to get it to work. Frankly, it's not a prominent feature, and I am sure whenever you change your hardware, you will have it.
3] Can you reduce or decrease Last BIOS time, if it is high, in Windows 11/10?
If the time is bothering you, and you want to have the BIOS time at the minimum, there is a way to decrease it. These are suggestions, and it might help, but in the end, it depends on the hardware.
If you have the option, switch to UEFI mode.
Make sure to connect your drive, which as the OS to the first SATA port. No matter what, the UEFI will look at this place first.
If not for everything, use SSD for Windows. I have an SSD for Windows, and it had made a massive difference in boot time.
Set your OS drive as the first boot drive. Otherwise, UEFI will spend time polling suggested places of the boot order.
Disable anything which you do not use in UEFI or BIOS. Since its all about hardware initialization, disabling is best, if you do not use it.
If your motherboard supports it, and you have SSD, then switch to AHCI mode from IDE mode.
Enable Fast Boot and set Fast Boot delay to zero seconds. The only problem is that it will skip a lot of checks done by POST, which may not be a good idea.
GPU also takes time to initialize, so you may switch to onboard GPU and check the difference in time.
So practically remove anything which slows down hardware initialization or enable or upgrade to improve the speed. Here is one thing you should know. If you switch from BIOS to UEFI, you may not be able to boot. Where BIOS uses MBR, UEFI uses GPT. Some UEFI-based motherboards have a fail-safe method. Every time you boot the computer, they check if the disk has MBR or GPT. If it doesn't find GPT, they switch their mode to support MBR. If your motherboard doesn't have this feature, you should convert the disk from MBR to GPT.
In the end, there is one thing I will say.  If your computer boots up in 5-15 seconds, it's fine. Last BIOS Time is only a number, depending on your hardware configuration. You may improve it by a few seconds by changing hardware settings, but it won't matter much.