The Task Manager in Windows shows overall resource usage by all the processes and applications running on your computer. That way, you can also check if there are any background processes utilizing more memory resources than intended. Service Host Agent Activation Runtime 15831 is one such entry in Task Manager that takes up a BUNCH of resources and increases memory usage. So, what exactly this process is, and how to disable it? We'll attempt to answer these 2 questions in this post.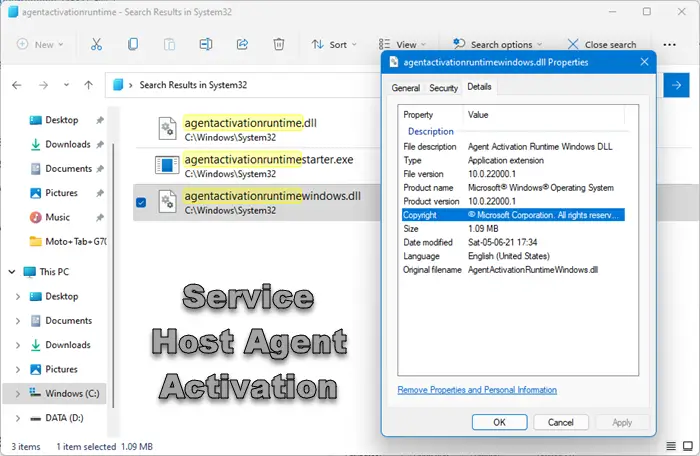 What is Service Host Agent Activation Runtime process?
The legit Service Host Agent Activation Runtime process is located in the System32 folder. The files involved are:
agentactivationruntimestarter.exe
agentactivationruntime.dll
agentactivationruntimewindows.dll
The Description says Unknown application or Application extension or Runtime for activating conversational agent applications. It is an audio driver-related process that gets activated when you use Cortana.
The path to the Agent Activation Runtime (AarSvc) Service is:
C:\WINDOWS\system32\svchost.exe -k AarSvcGroup -p
You may see a random number appended to this Service.
How do I disable Service Host Agent Activation Runtime?
Since Windows 11 no more uses Cortana it makes little sense to keep this task enabled, especially when it's such a memory hog. Let's see how to disable it!
Open the Task Manager.
Switch to the Startup tab.
Right-click Cortana, choose Disable.
Launch Service Editor.
Locate Agent Activation Runtime.
Right-click the entry, select Properties.
Change the Startup type change to Disabled.
Let us cover the above steps in a bit more detail below!
Open the Task Manager and switch to the Startup tab.
Under it, locate Cortana.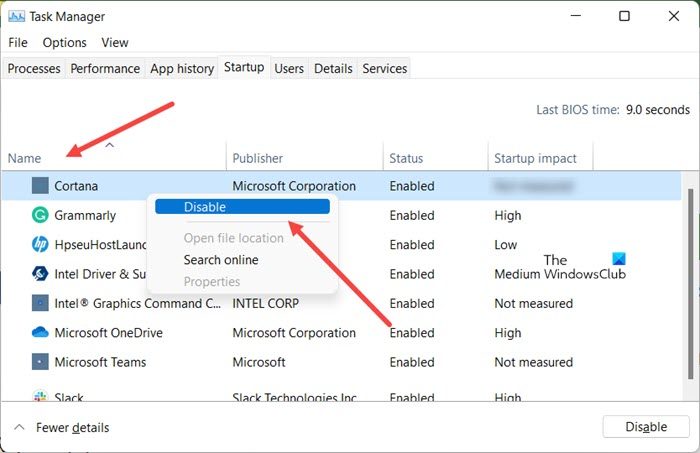 When found, right-click the entry and select the Disabled option.
Next, you will need to change the start behavior of the service. So, launch the Services Manager.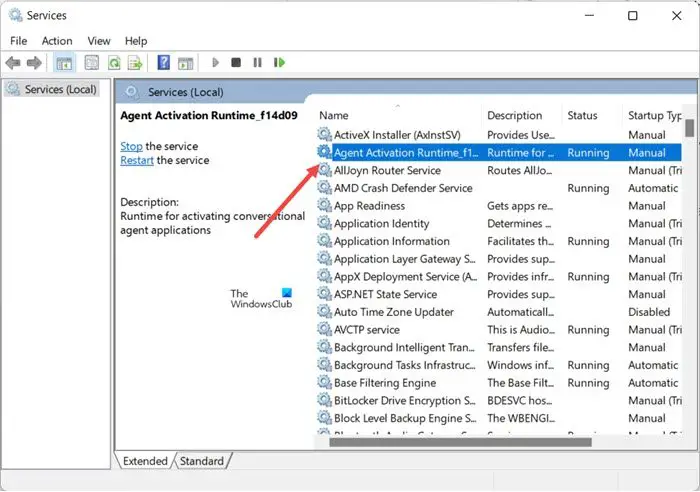 When the Service editor window opens, locate the Agent Activation Runtime under the Name heading.
Next, right-click the entry and select the Properties option.
Hit the drop-down button next to Startup type and change the Startup type to Disabled.
Alternatively, you can use the Registry hack. For this, open the Registry Editor. Navigate to the following path address –
HKEY_LOCAL_MACHINE/SYSTEM/CurrentControlSet/Services
Then, in the list, look for "AarSvc" and "AarSvcXYZ" entries.
Choose AarSvc and move to the right-pane.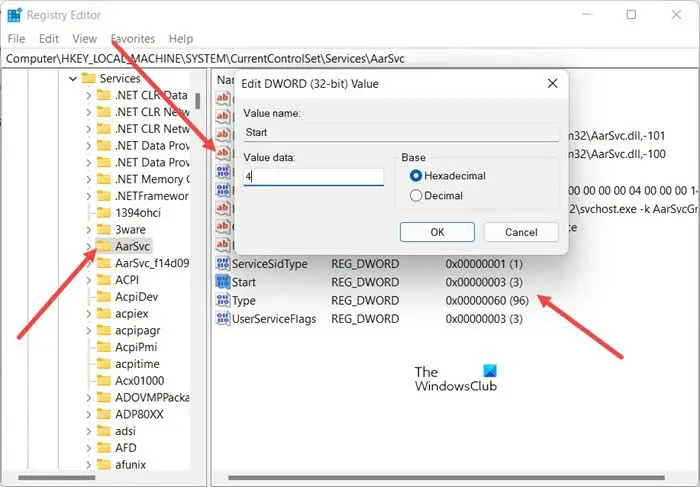 There, double click Start and change the value data from 3 to 4.
The base should remain at hexadecimal.
Repeat the same for AarSvc.
Once done, restart the computer.
This should fix your problem.
What is AarSvc?
AarSvc stands for Agent Activation Runtime Service. Its located under C:\Windows\System32\AarSvc.dll. The file is a legitimate one and does not pose threat as a virus or malware.
What is UserDataSvc service?
It is the User Data Access (UserDataSvc) Service that allows apps to access user data, including contact info, calendars, messages, and other content. Most of the apps running on your system require this service.
Hope it helps!
Related: What are Runtime Errors?