Windows Photos App is a versatile app for viewing your photos. It even allows you to edit images by cropping them and adding effects by enhancing their colors, and so on. The updated version of Windows brings some more features in its store. The web image search feature for the Photos app, as it is known, adds Bing Search support to enable users to search for similar images. Here's a short tutorial explaining to you how to use Web Image Search feature for the Photos app in Windows 11/10.
Web Image Search feature of Photos app
Photo browsing or viewing should be a hassle-free process. Make sure that the app is updated to its latest version and then enable Bing image processing service.
This capability could find its utility in certain scenarios. Like, if you have downloaded and saved a wallpaper in standard definition, you could make use of this feature to search for the same wallpaper in high-definition quality or try some other similar images.
Search for Similar Images on Bing in the Windows Photos app
The new and updated Photos App for Windows has received some major changes. You can add names to the people Microsoft finds in Photos App and combine all entries with the same name. Similarly, you can make your videos in the Photos App extraordinary by adding 3D models from Remix 3D. So, make sure your app is updated.
To use the search feature, all you have to do is select the desired image in Photos App, right-click it and choose 'Search for similar images in Bing' option visible at the bottom of the menu.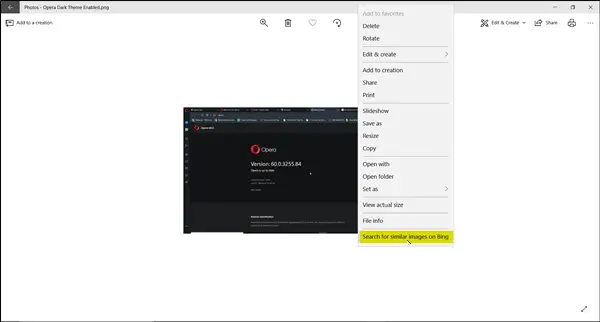 If prompted with a message to allow Microsoft to process the image online, hit the 'Agree' button.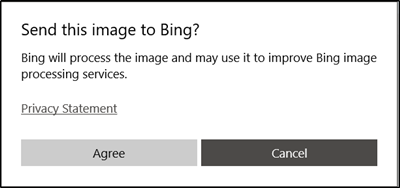 Wait for a few seconds to allow the algorithm to lookup for similar results on the web and fetch you similar results.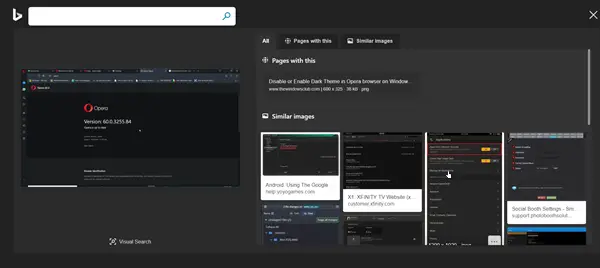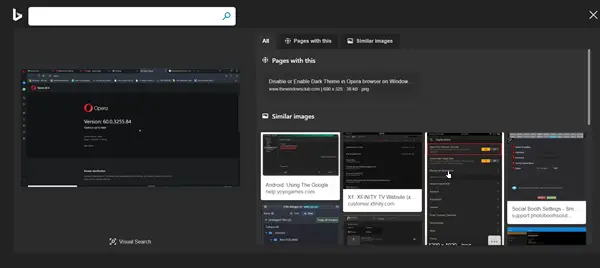 As you can in the image above, Bing search will return almost similar results.
That's it!