Finding pictures on the web is not hard, but it gets a lot easier when Google Image Search is used as the primary tool. Yes, we know that Google isn't the most trustworthy company due to privacy concerns, but we cannot pretend that their search service is not the best in the world.
How to search Images by Color in Google
Not everyone knows that it is possible to narrow down image search results with the use of colors. This is something you can do right now with Google Image Search to make life a lot easier than before. It's a feature we've come to enjoy, and because of that, we would like to share our knowledge.
The idea behind this is to make it easier to find the color of whatever you're searching. For example, if you want to find a particular shoe but in red, then you will choose the color red, and from there, the search results will only highlight red in that particular shoe.
Visit www.google.co.in/imghp
Open the Tools menu
Pick a color from the color menu
Let us discuss this in a more detailed manner.
1] Visit Google Image Search
Okay, so the first thing you should do is fire up your modern web browser of choice, then visit the official Google Image Search page at google.com/images.
From there, type what you want to search for, then hit the Enter key on the keyboard to bring up the results.
Read: Useful Google Search Operators to get better results.
2] Open the Tools menu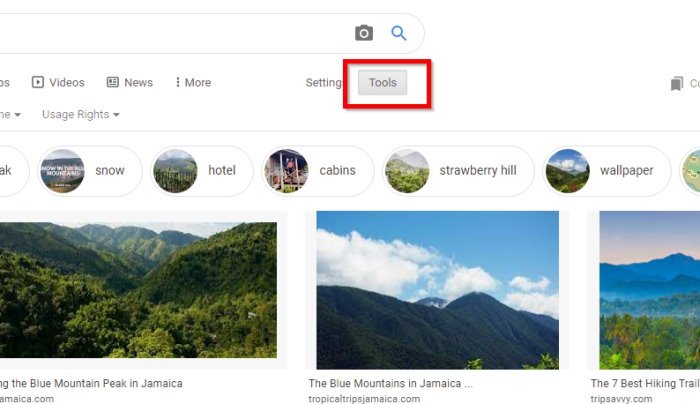 So once you've loaded the search results, you must look for the Tools to the right. Click on right away to reveal a menu.
Read: Lesser known but useful Google Search tips and tricks.
3] Pick a color from the color menu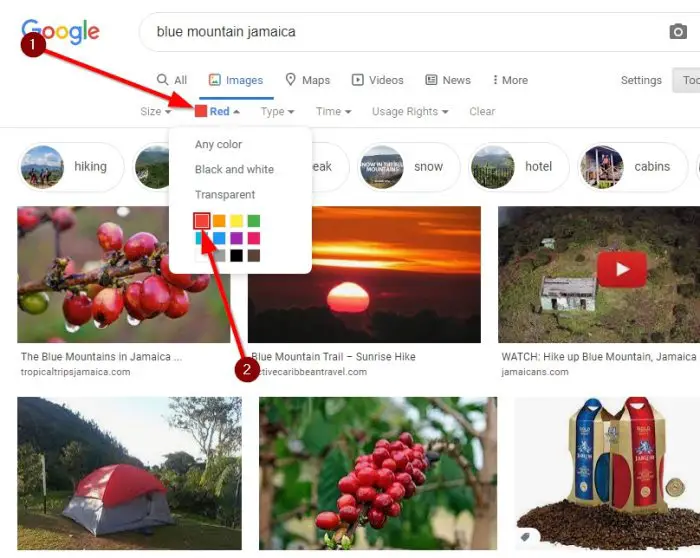 The next step you will want to take here is to choose a color from the color menu right away. You can choose whatever color makes sense for what you want to do.
From the example we've created, you can see we searched for Blue Mountain Jamaica. We then chose the color red, and right away, the search results changed to showcase red coffee beans grown on the Blue Mountain in Jamaica.
Quite impressive, if you ask us.
Read next: Interesting Google fun search tricks to keep the user entertained