Changing a user account name in Windows 7 wasn't a big deal, and most users were able to do it easily. In Windows 7 you could use the Change your account name setting on the left side of the User Accounts applet in Control Panel.
But in the case of Windows 10/8, people are facing a challenge as it is not so simple to change their user account name. This is due to the reason that when you install Windows 10/8, there is an option to provide the name for the user account. But after doing so, there exists not even a single option in PC Settings, to change the name you provided earlier. In this article, I'll tell you the way to change the user account name.
Note: Windows 10 users, please do not try this part. Scroll down to the section where it says Change User Account Name in Windows 10.
Change User Account Name Using NETPLWIZ
Before you start, please back up all your data and create a system restore point first.
1. Press Windows Key + R combination and then type netplwiz in the Run dialog box. Click OK. If prompted by UAC, click Yes.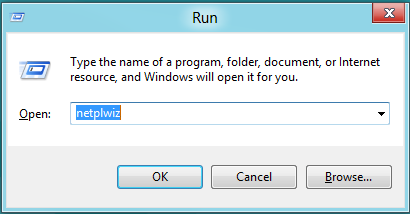 2. Now in the User Accounts window, check Users must enter a user name and password to enter this computer, if it is unchecked. In the User Name section, select the user name to which you want to change the name and click Properties.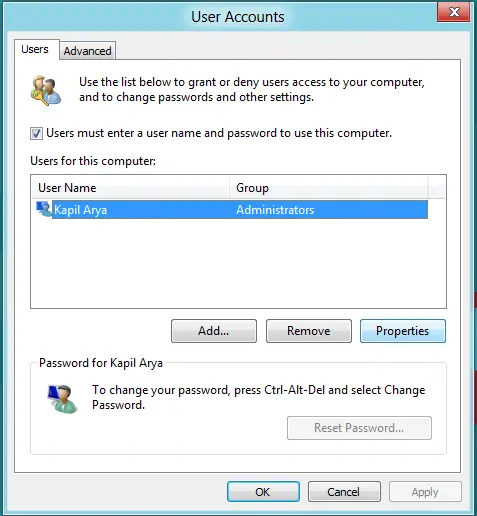 3. In the Properties window, in the User name field, provide the desired user name. Then click Apply followed by OK.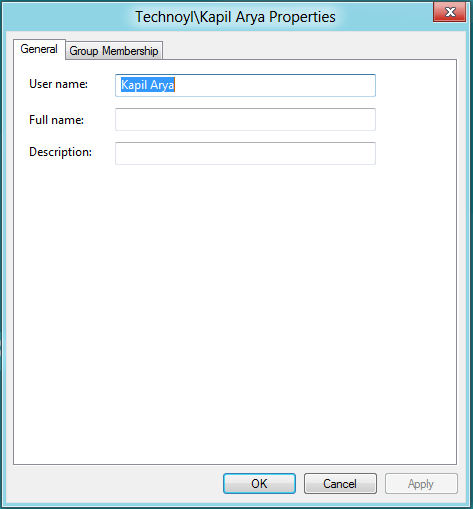 That's it! You will be successful in changing the user name. Reboot to see the change.
Hope you find the tip useful.
NOTE: In Windows 8, you can open Control Panel\All Control Panel Items\User Accounts\Change Your Name and change your Username here too. Do read the comment posted below by Matt.
Change User Folder name
Even after you change the username using this method, your personal folder will continue to display the old username. To rename the user folder, do the following.
Create a system restore point first. Then open Registry Editor and navigate to the following key:
HKEY_LOCAL_MACHINE\SOFTWARE\Microsoft\Windows NT\CurrentVersion\ProfileList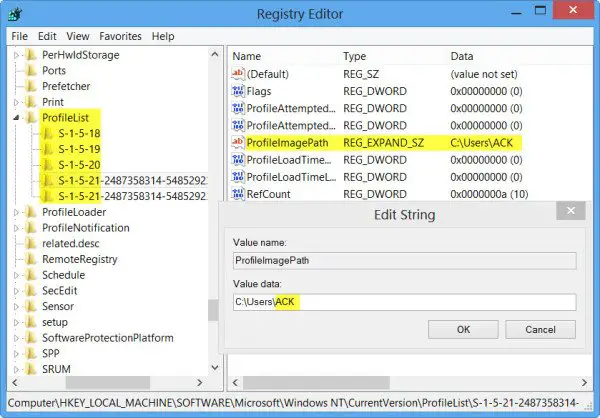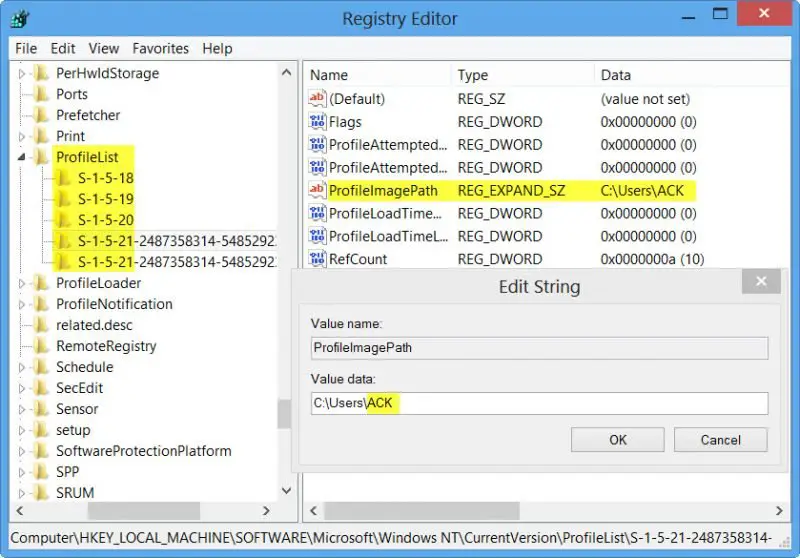 You will find several folders here like S-1-5-. Search through them till you find a ProfileImagePath pointing to your old username. Double-click on it and replace your old username with your new username.
Restart your computer to see the change.
Change User Account Name in Windows 10
Read the comment by Grof Gergely. He says:
It can actually be done on Windows 10. You do these steps (the registry edit thing) and then you press Win+R, you write "msconfig". There you go into the "Boot" section and you tick "Safe Boot". After that restart the computer.

Now go into C > Users and rename the folder to the new username (THE SAME ONE YOU WROTE INTO THE REGISTRY). Now again press Win+R > open msconfig > Boot section > Untick Safe Boot. Restart your computer and it will work fine.

I did it this way and it works perfectly.
All the best.