After users upgraded to Windows 10, some of them have noticed that the username being displayed, when they are signed in using a Microsoft Account is not what they wanted it to be. In some cases, the last name had got truncated whereas in other cases the email Id was being displayed. Today, we will see how you can change the displayed profile username of your Account in Windows 10.
UPDATE: Things have changed in recent versions of Windows 10, and so this post has been modified/updated.
Change Account username in Windows 10
1] Via Control Panel
Open Control Panel > All Control Panel Items > User Accounts.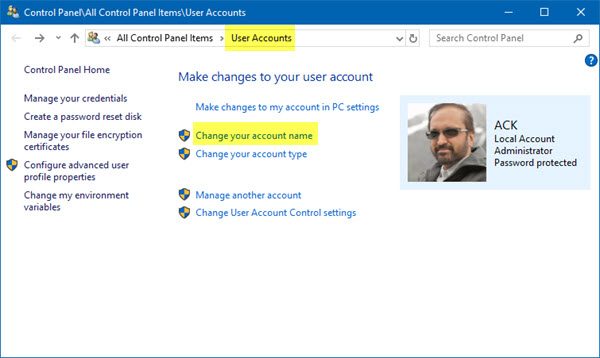 Select Change your account name to open the following panel.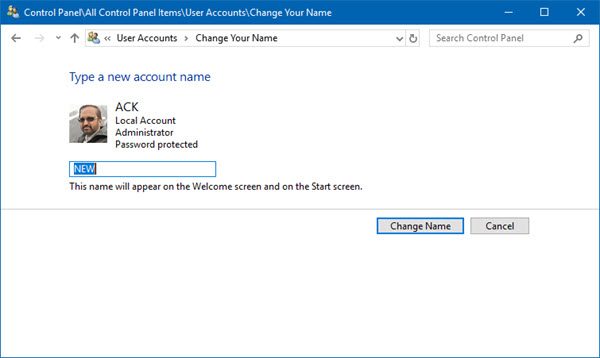 In the designated box, write the new name of your choice and click on Change Name.
Your account name will change, and it will now appear in the login screen, Start Menu, etc.
2] Via Settings
In earlier versions of Windows 10, if you are logged into your Microsoft Account, you can do the following.
Open Start Menu and click on Settings. Once the Settings app opens, click on Accounts and then on Your account.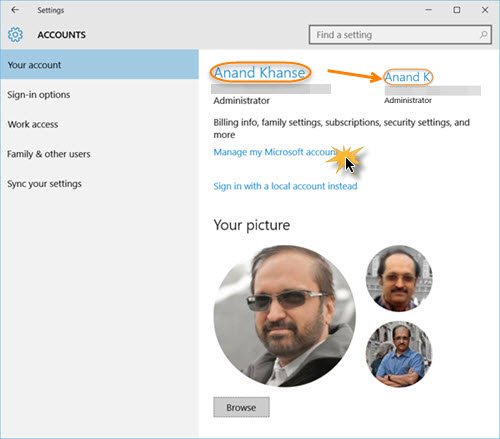 Here, you will see a Manage my Microsoft account link in blue. Click on it to visit your Microsoft account homepage at account.microsoft.com. You may be asked to log in again.
Here on the left side, under Hello, you will see an Edit name link against your name.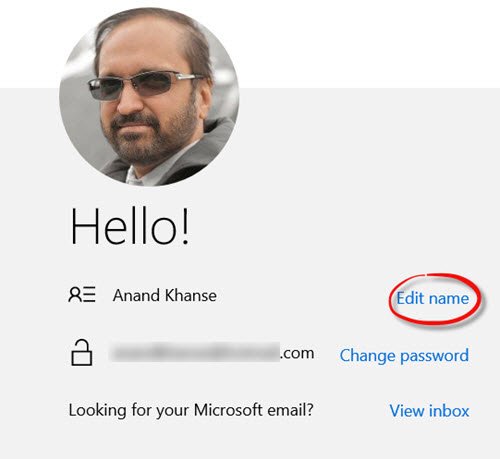 Click on it, and on the page which opens, write the name you want to be displayed and click on Save. This is the same name which will be used when you send emails using this email ID.
When you restart your computer, you will see that the account username being displayed has been changed.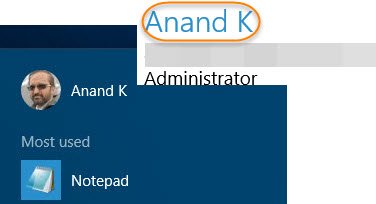 You will see the name changed while signing in at the login screen, on your Start Menu, in the Settings app, Control Panel, and all other places.
These are safe methods and will not affect your user files & folders.
Also read: How to change User Account Name in Windows using netplwiz or Registry.