While many Windows machines are now running the latest operating system, Windows 11/10, users having devices with less free disk space may still be struggling with the upgrade process. If you are one of the Surface or Tablet users having less free disk space, this write-up may help you. In this post, we will see how to upgrade, Surface, Tablets and other devices having less free disk space or small hard drives of size 32 GB or less.
Upgrade Devices with less free disk space to Windows 11/10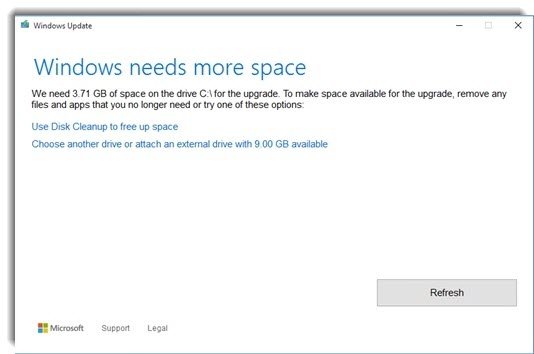 Seeing the upgrade issues and high demand, Microsoft recently started rolling out the downloads in an organized way for users having devices with little hard drive space.
Windows needs more space
Microsoft has sent notifications to such devices and offered them the Windows 10 free upgrade. If you are seeing such a notification, go ahead and use this method to upgrade.
If not, then such users can now also upgrade their Tablets and Surface using the Windows Media Creation Tool. Once you are done with the download, the tool will start a compatibility check to see if your device has enough space or not. If you see a message saying, "Windows needs more space", you need to run a Disk Clean-up and free up the required space for installation set up. Uninstall programs, language, packs, etc, you do not need.
If your device allows it, you can use an external USB drive for the upgrade process. Windows setup will backup the previous version of Windows to a USB external drive. The external drive must be at least 8GB – but having 16GB is recommended.
Before you start with the installation procedure, make sure that your device is plugged into a power source. Devices having only one USB port, can use the SD card as an external drive for installation – but a USB is always recommended and preferred over an SD card.  It is important to have your external drive formatted in NTFS to run the installation error-free, says Microsoft.
Read: System Compression in Windows.
If you do not use a USB for upgrading, after the Windows 10 upgrade process on such devices, you will find left with very little space on your device. This is because folders like Windows.old, $Windows.~BT & $Windows.~WS, etc, will end up occupying a lot of space. These files will be deleted automatically after 1 month.
But if you wish to delete Windows.old and the previous installation of Windows, you can use the built-in Disk Cleanup Tool. You can also manually delete the $Windows.~BT & $Windows.~WS folders – but note that if you do delete these folders, you will not be able to roll back Windows to your earlier Windows version. There are also other ways to free up disk space!
If you have used a USB, then you will be able to use the data on it during the rollback process.
Windows 11/10 will support systems with compressed installations and can upgrade such systems with as little as 8.5 GBs of free space.