Windows 11/10 includes a new UWP Windows File Explorer app file, that is optimized for Touch devices and includes a Dark theme as well. This post will show you how to access this hidden Explorer app. Now we are not sure if it's the final version of the File Explorer but it is something really interesting to try out. It is quite possible that Microsoft intends to make some more changes to it and has therefore not brought it out in the open.
Open new File Explorer app
To access this new hidden File Explorer app in Windows 11/10, open File Explorer and copy-paste the following folder path in its address bar and hit Enter:
C:\Windows\SystemApps\Microsoft.Windows.FileExplorer_cw5n1h2txyewy
Here you will see a FileExplorer.exe file. If you click on it, nothing will happen.
To open it, you will have to create its desktop shortcut. To do this, go to your Desktop, right-click in an empty space and choose 'New' option. Next, select 'Shortcut' from the list of options displayed. In the Create a Shortcut wizard, enter the following in the location field:
explorer.exe shell:AppsFolder\c5e2524a-ea46-4f67-841f-6a9465d9d515_cw5n1h2txyewy!App
Click Next, give it a name/icon and exit.
Now when you click on this desktop shortcut, the Universal app version of Windows File Explorer will open.
You will be able to navigate to all your folder locations and files.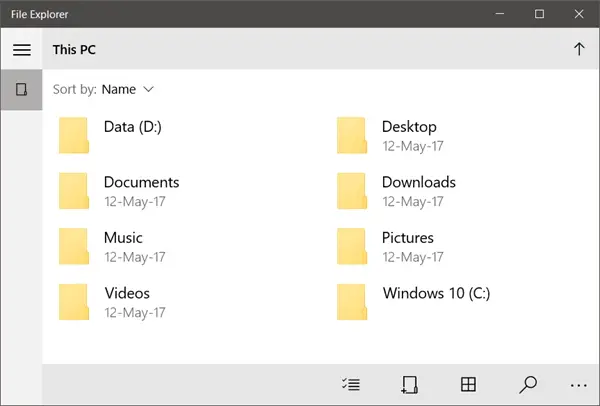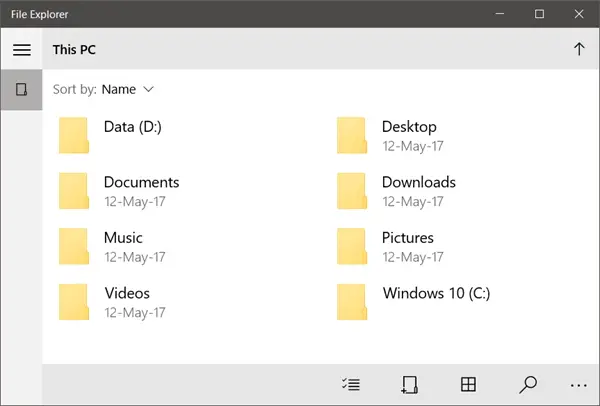 In the bottom right side, you will see file & folder operation options like Search, Select all, Clear selection, Rename, File properties, Copy To, Move To, Delete, Select,  Display Icons or Lost, Sort by, and so on. They will appear depending on the relevance.
Please note that the touch-optimized version of File Explorer introduces some changes. For instance, it does away with most interface elements that are originally a part of the regular Windows Explorer. You cannot enter a path or location for a file/folder directly, nor you get any option to access file sync services directly, or options to access locations quickly.
But as seen, it retains the basic functions. You can create folders, delete files, move or rename them and search for the same. Besides, you can switch between storage locations and display basic file properties such as the number of files or folders on a drive.
You can see that its icon is different from the existing File Explorer, in the Taskbar.
Dark theme in File Explorer
You can also use the Dark Theme for this File Explorer app. You will see this setting in Settings > Personalization > Colors.
This Explorer app first appeared in Windows Insider Build 14936. It is available on Windows 10 as well as Surface Hub in Windows 10 for PCs.
How do I open the Windows Explorer app?
If you want to open the regular Windows or File Explorer app on Windows 11 or Windows 10, you can click on the This PC or File Explorer icon. However, if you want to open the new fluent File Explorer app, you must go through the aforementioned steps. In other words, you need to create a desktop shortcut for the new File Explorer app.
How do I enable the new File Explorer?
To enable the new File Explorer app on Windows 11 or Windows 10, you need to go through the above-mentioned steps. Create a Desktop software and enter this: explorer.exe shell:AppsFolder\c5e2524a-ea46-4f67-841f-6a9465d9d515_cw5n1h2txyewy!App. Then, save the shortcut and double-click on it to open the new File Explorer.
Do try it out and see how it feels.