Sometimes we do not like the default settings in Windows 11/10 – and that is when tweaking freeware like Ultimate Windows Tweaker help us change & tweak Windows settings. Here is another one new tool called TweakPower that lets you tweak your Windows OS. Today, let's check out the features provided by TweakPower.
TweakPower freeware for PC
TweakPower comes with several tweaks and features. What follows are some of the useful features which will be useful for every PC user:
Check hard disk for errors: Many times, we get a different error in HDD and lose our data. However, if you take proper care, you might not lose any data. For that moment, this option is very much suitable for you.
Defrag Hard Disk: If you think that the inbuilt de-fragmentation is not offering a significant result, you can try out this option provided by TweakPower.
Removing file Duplicates: Duplicate files are the worst thing that consumes a lot of space. You can get rid of them using this functionality.
Restore Deleted Files: If you have deleted something mistakenly, you can recover those files using this option. However, you may not be able to recover them, which has been deleted by any software for a permanent time.
Usage: This option is for them, who want to customize the start menu or the mouse/keyboard settings etc.
Administration: It lets you check system information, drives, user login details, security information, Firewall information, Windows Updates information, and much more.
System Settings: If you want to customize the effects, animations, menu appearance, etc. do utilize this option.
Visual Styler: You can edit different icons using this feature. This is mainly useful for them, who do not like the inbuilt set of icons.
Economy Mode: it is very useful for them, who are having a low battery but have a lot of work to do. It does stop some unnecessary background processes to extend battery life as much as possible.
Standard Mode: It helps you run the computer with all the processes. This is the default mode that your computer runs on.
Turbo Mode: When you need a lot of more resource for video playback or gaming, you can turn on Turbo Mode to stop 70 different unnecessary background processes at once.
Registry: By making use of this option, you would be able to clean up unwanted Registry entries, defrag the Registry Editor, search for any value, key, string, etc. in Registry Editor, and backup/restore Registry files.
Computer: This category comes with some options to clean unnecessary plugins, broken shortcuts, uninstall apps, optimize the visual animations/effects, optimize the internet connection for the best possible outcome, etc.
Security Center: If you want to delete a file/folder permanently, password-protect files/folders, split large files r configure different privacy settings, this option is what you need.
Backup and Options: This category has some options to backup/restore data, check events, background process, apps, services, etc. and much more.
The user interface of TweakPower is not that complicated, and hence, you would be able to check everything by category. To get started, download and install it on your machine. If you do not want to install, you can download the portable version of this app. Following that, you should get a window something like the image mentioned above.
Check hard disk for errors:
This tool is very useful for disk checking. To do so, head over to the All Functions tab > click on Check hard disk for errors. You should get a window, where you can select the partition or an entire hard disk to start the process. If you want, you can enable the option called Automatically fix file system errors, which will fix all the issues related to file system. Also, you can check the Scan for and attempt recovery of bad sectors option.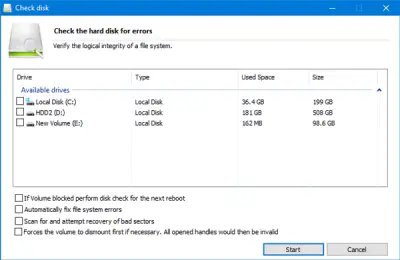 Clean up Registry:
Sometimes we uninstall the software, but some Registry files get stored in some locations. If you want to remove those unnecessary Registry file, here is how to do that.
Go to All Functions tab and select Clean up Registry. After that, you can select either Full Scan or Custom Scan before hitting the Next button. If you choose Full Scan, it will scan the whole Registry editor. If you want to select a particular folder, do opt for Custom Scan.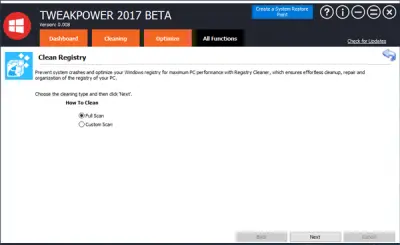 Plugin Cleaner:
Many Windows software come with different plugins. If you think that they are making your system slower and you want to delete them, go to Plugin Cleaner under All Functions. Hit the Analyze button and then, let it scan your system. You can select what to delete and not.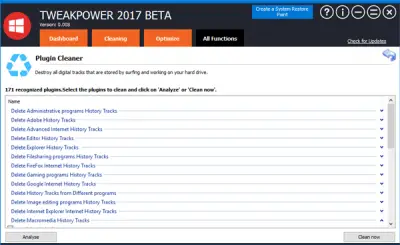 Encrypt Files:
If you want to password protect any confidential document or any other file, go to Encrypt Files section. Here you need to choose Encode option to encrypt files. After choosing file/s, folder/s by clicking the Add button, you need to enter your desired password. If you want to open a password protected file, you need to choose the Decode option.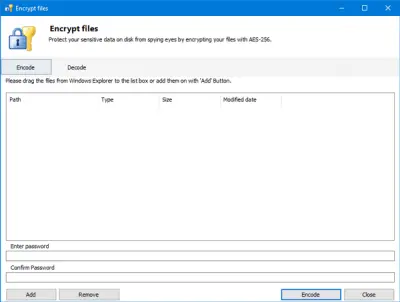 Now you can go through different options and make desired changes.
TweakPower download
You can download TweakPower from here. Do create a system restore point first before you use it.
How do I make Windows 11/10 tweak faster?
To tweak Windows 11 or Windows 10 settings faster, you need to open the Windows Settings panel. You can press Win+I to open Windows Settings panel in Windows 11 as well as Windows 10. Following that, you can switch between various tabs to find different options and change settings as per your requirements.
How do I make Windows run smoother?
To make Windows run smoother for a long time, you need to do maintenance work frequently. You need to remove junk files, make more free space, remove unnecessary apps from the startup, and more. For your information, all those things are possible with the help of TweakPower.
Hope this app helped.