Smartphones have become a necessity these days. While you can restrict phone usage for your kids when they are young, but as they grow, it becomes necessary to hand them over a phone so you can contact them or they can get back to you in case of an emergency. It's a necessary evil, and Android doesn't offer anything which works on a Family level like Microsoft Family. In this post, we are sharing how you can Track kids location and monitor app usage on Andriod Smartphones.
Android and Microsoft Family
Microsoft now has tons of apps available on the Android Platform.  One of the most used apps is the Microsoft Launcher. Just before we start, Microsoft has a Family Safety feature that works across devices. It allows parents to track kids' usage on PC and Xbox.  The company has smartly integrated this feature on the launcher (which works with Microsoft Account) so you can use it to track kids' location and monitor app usage on Andriod.
Track kids location & monitor app usage on Andriod
Now that you have set up your kid in Microsoft Family, you can use the same Microsoft account in the Launcher. We suggest you take your kid in confidence with security concerns in detail. It's always a good idea to convince them about its importance so they don't remove the launcher from their phone. There is no way to restrict it.
Setting up Microsoft Launcher for tracking kid's location
On your kid's phone, install the Microsoft launcher and sign-in with his Microsoft Account.
You will have to follow the usual steps to give permission to the app.
The next step is to set the Microsoft Launcher as the default launcher UI.
Note:
There is no way to turn off tracking once the setup is complete on your child's phone.
The phone should have working internet plan and location settings set to on.
How to track location?
Open Microsoft Family Page by going to your Microsoft Account.
Under your Kids Name, select More Options > Find Anant on Map (Anant is the name of my Kid)
This will take you to the location tracking page.
At this page, toggle on the option which says "See my child's location on map"
Right after this, Microsoft launcher will ask you to give permission to track app usage as well. Make sure to allow it.
How to monitor app usage with Microsoft Launcher
Now that you have given permission, you can now go to Activity details of your Child's account and monitor the usage. It takes a while for the activities to appear. So, if you have just set it, give it some time. You will soon have a report including which apps are accessed and time spent on each app.

As you can see in the above image, there is no way to block apps for now. I am guessing Microsoft might bring this feature if they introduce app locking through the Microsoft Launcher. That can be the only way to block apps.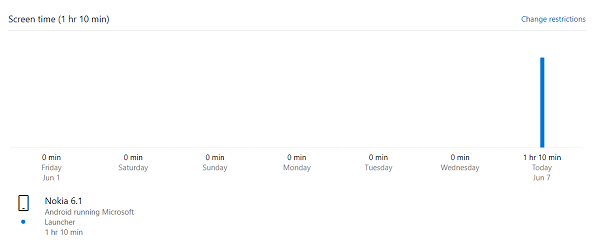 Browsing Control:
If you want to add the same kind of restriction for browsing as you have set on PC, for your kid, you will need to install Edge. Make sure to sign in with a child account. Further, you can uninstall Chrome.
As it is not a complete solution, we would suggest you use App Lock on your child's phone. Once you learn which app is used, and which should be restricted, you can start locking down those apps. I would highly recommend you lock the Google Play store so no extra apps can be installed on the phone. You can always do it on your child's behalf.