This post features different solutions to fix the Not enough disk space error in Total Warhammer 3. Total Warhammer 3 is a real-time turn-based strategy action game. However, like any other online game, it is also prone to bugs and errors. Among all the errors, the Not enough disk space is one of the most common errors. Fortunately, you can follow some simple methods to get rid of this issue.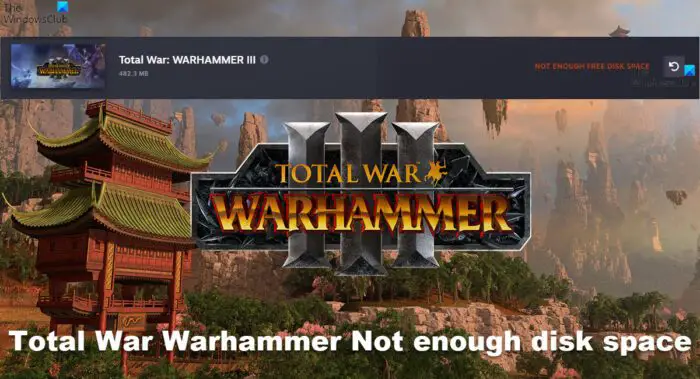 What causes Total Warhammer 3 to display Not enough free disk space error?
There isn't any specific reason why this error may occur. In many cases, users have reported this mainly occurs if your system isn't compatible with running the game. All things considered, the primary reasons for this error could be:
There is not enough disk space to install, update or play the game
System clogged up with Temporary files
Unnecessary apps running on your PC
Fix Total War Warhammer 3 Not enough disk space error
To fix Total War Warhammer 3 Not enough free disk space error that you may see while trying to install, update or play the game on your Windows 11/10 PC, follow these suggestions:
Check System Compatibility
Clear Steam Download cache
Use Disk Cleanup Tool to clear junk files
Run Total Warhammer 3 as an Admin
Verify Integrity of Game Files
Reinstall the Game
Now let us see these in detail.
1] Check System Compatibility
Before getting started with different troubleshooting methods, check if your device meets the minimum requirements. It's possible your device doesn't meet the minimum requirements to run Total Warhammer 3.
OS: Windows 7 64-bit or later
Processor: Intel i3/Ryzen 3 series
Memory: 6 GB RAM
Graphics: Nvidia GTX 900/AMD RX 400 series | Intel Iris Xe Graphics
Dedicated Video Ram: 2048 MB
DirectX: Version 11
Storage: 120 GB of available space
2] Clear Steam Download cache
If you receive the Not enough disk space when using Steam, you should Clear Steam Download cache and see. Here's how:
Launch your Steam in admin mode.
Once in the client, click on Steam at the top left corner of the screen.
From the drop-down box, click on Settings.
Once in the Settings, navigate to the Downloads tab.
Click the Clear Download Cache option.
Click OK on the prompt to confirm your action. Wait for the process to complete.
When done, save changes and exit the client.
3] Use Disk Cleanup Tool to clear junk files
The disk space error can also occur if your device is clogged up with Temporary and Junk files. Windows stores these temporary files automatically to enhance one's experience. These files serve no purpose and should be deleted from time to time. Here is how you can do it using Disk Cleanup Tool:
Search for Disk Cleanup and click open it
Select the files that you want to delete
The Disk Cleanup system will now ask for confirmation.
Click on Delete Files to proceed.
Do note that if you click on Clean up system files, you will see more options.
Using this option, you can delete all but the latest system restore points, Windows Update Cleanup, Previous Windows installations, etc.
You can also clear up disk space vis Windows Settings.
4] Run Total Warhammer 3 as an Admin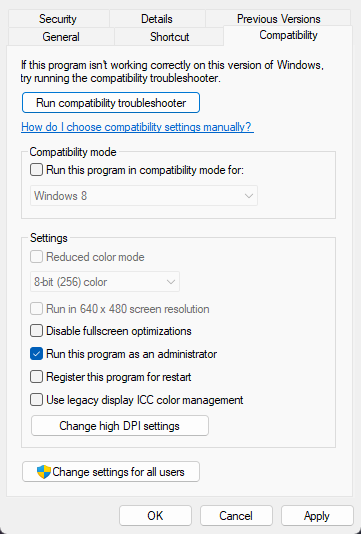 Running the game as an administrator makes sure the game doesn't crash due to a lack of permissions. Here's how to do it:
Right-click on the 

Total Warhammer 3.exe

 shortcut file on your device.

Click on 

Properties

.

Navigate to the 

Compatibility

 tab.

Check the option 

Run this program as an administrator

.

Click on 

OK

to save changes.

5] Verify Integrity of Game Files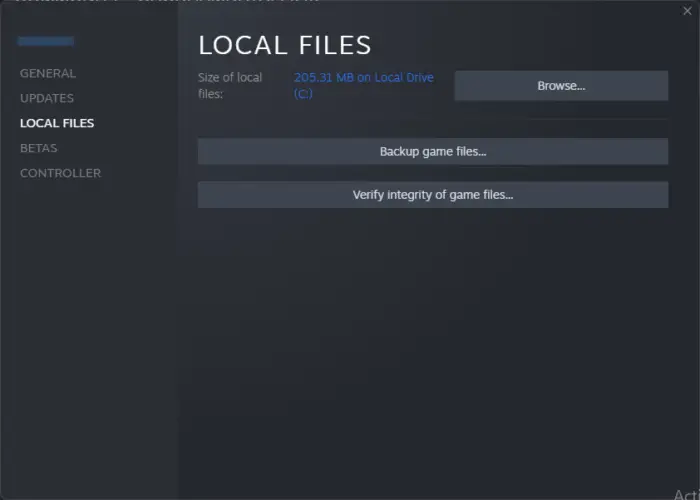 Sometimes game files can get corrupted due to a bug or a recent update. This could also be the reason why this issue is troubling you. Verify the integrity of game files on your PC using the Steam client and check if the issue is fixed. Here is how it's done:
Open Steam and click on 

Library

.

Right-click on 

Total Warhammer 3 

from the list.

Select 

Properties > Local Files

Then click on

Verify Integrity of Game Files

.
6] Reinstall the Game
If none of these steps were able to help you, consider reinstalling the game. This has been known to help most gamers get over this error.
Read: Total War Warhammer 3 not launching or loading on PC
Why does it say not enough disk space when there is?
You may receive an error message that there is not enough disk space, even when there is, if the game files integrity has been compromised. You can follow the suggestions laid down in this post to get rid of such errors.
How much GB space does Warhammer 3 take up?
Warhammer 3 Total War requires a minimum of 120 GB of available disk space along with 6GB of RAM & Dedicated Video Ram of 2048 MB. But it is always good to have more disk space.
How can I increase disk space?
Insufficient disk space can make your PC lag too much. It may disable you from installing new applications and downloading any other media files. You need to delete temporary files and unwanted apps at regular intervals to increase disk space on your Windows device. A Windows Disk Cleanup Utility is also offered that can help you clear up some space.
Why is Warhammer 3 crashing?
Warhammer 3 can crash due to outdated network drivers. Along with this, the problem can also occur due to corrupt game files, unstable internet connections, and ongoing server issues.
Fix: Total War Warhammer 3 FPS drop, Lag and Stuttering on PC.