So you upgraded from Windows 8.1 or Windows 7 to Windows 10 and you find that some of your important programs which worked earlier, do not work now. What do you do in such cases? Maybe you receive a This program doesn't run on Windows 10 message when you try to run it. The other messages you could see are The operating system you are using is not supported or This program does not support Windows 10 yet. Let us see the option you have available.
This program doesn't run on Windows 10
1] Before you begin, make sure you have all the latest Windows Updates and Device Drivers installed. Also make sure that you have downloaded and installed the latest version of the program from the developers website. If you are running a custom-made software, you may not have this option.
2] Right-click on the program executable file and select Run as administrator and see if it works.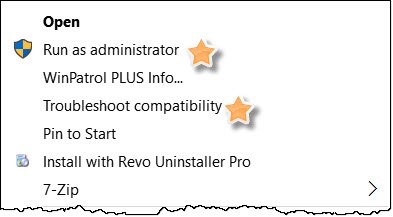 3] Windows 10 ships with .NET 4.6 by default. Does your program require an older version of .NET Framework? If so, you can download that version from Microsoft Download Center and install it on your computer. Windows 10 comes with .NET 4.6 installed by default. You can check which version of .NET framework you have installed on your Windows PC?
5] Again, right-click on the program executable file and from the context menu items available, select Properties. From the Compatibility tab, under Compatibility mode, check the box against Run this program in compatibility mode for – and from the drop-down menu select Windows 8, Windows 7 or as the case may be. Click on Apply and try now to make the program run in compatibility mode.

Program Compatibility Troubleshooter
6] If it does not work, then from the context menu, you can select Troubleshoot compatibility. You will also see a similar option Run Compatibility troubleshooter option under the Properties box > Compatibility tab. Selecting either of these will open the Program Compatibility Troubleshooter.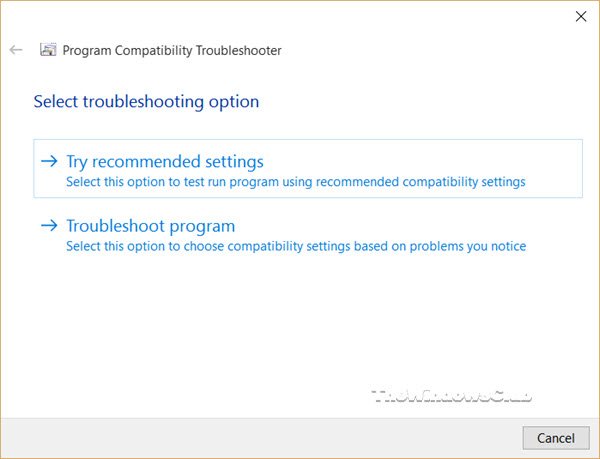 Follow the wizard to its completion, selecting the nature of the problem you are facing. You may click on the images to see their larger versions. It is quite simple!
If you need to use it frequently, you can create a Program Compatibility Troubleshooter desktop shortcut.
Read: Make old programs work on Windows 10.