Sometimes Windows or the device itself has to restart. While it's usually fast, but if you managed to catch a device in such a state, it gives an error Code 54. This post will help you resolve this Device Manager error code.
This device has failed and is undergoing a reset (Code 54)
This is an intermittent problem code assigned while an ACPI reset method is being executed. While it will automatically resolve itself in a while, if the device never restarts due to a failure, it will be stuck in this state, and the system reboot is required. Here are some suggestions you may try.
1] Restart the computer
We will know how a restart resolves multiple problems because everything starts from a clean slate. When Windows shuts down, it deletes everything which it holds in a temporary form.  Since this error occurs when the state is stuck, resting the computer will get the job done.
2] Reset Wireless Network
Forum users have also reported that resetting the wireless network can also resolve the problem. You can use the netsh command to reset the parameters and reconnect to the network. Execute the below-mentioned commands on an elevated command prompt.
netsh winsock reset
netsh int ip reset
ipconfig /release
ipconfig /renew
ipconfig /flushdns
3] Run Network Adapter Troubleshooter
Go to Windows Settings > Update and Security > Troubleshoot > Additional Troubleshooters.
Locate and run the Network adapter troubleshooter. This built-in feature can resolve a lot of problems on its own, with end-user worrying about complex commands.
To bring it up directly, from the WinX Menu, open the Run box and execute the following command:
msdt.exe /id NetworkDiagnosticsNetworkAdapter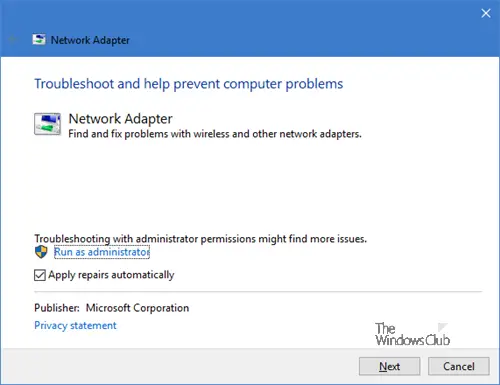 Click on the Next button to proceed and follow the wizard to its conclusion.
You can also use a third-party network troubleshooter to resolve this and many other problems.
4] Run Network reset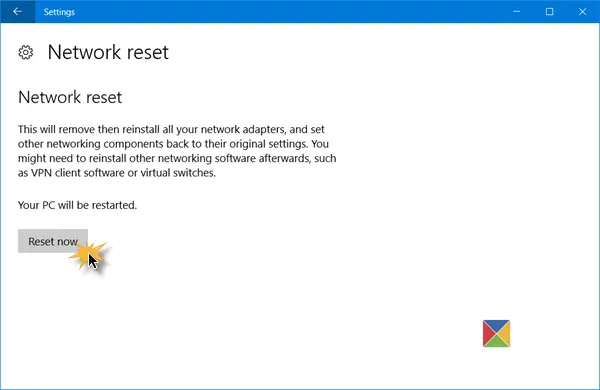 The Network Reset feature will first remove and then reinstall all your network adapters and set other networking components back to their original settings and default values.
That said, while network devices can be one of the reasons for this error, it may not be limited to this. So a restart might be your best bet.