NetCrunch Tools is an application for Windows Networking professionals that can help them troubleshoot and manage their network. It combines 11 troubleshooting tools, including DNS Audit, Ping Scanner, Port Scanner, Network Services Scanner and more. NetCrunch Tools is free, but it requires you to register using your Facebook, Google or Microsoft account.
NetCrunch Tools for Windows
NetCrunch Tools takes just a few minutes to download and install on your PC. The main overview of the program is simple and plain showing the three main groups and a tab to register at the top-left corner. Click on Register and scroll down the page to continue with the registration.
The 11 tools of this program are broadly categorized into three groups namely- Basic IP Tools, Fast Scanners, Subnet Tools. Let us take a look at some of its features.
IP TOOLs
This group include the tools like-
Ping- This tool helps you testing the reachability of an IP address and measures the time for messages sent to a PC. Just enter the IP address in the given search bar and click on the PLAY button. The tool will give you a detailed view of Packets Sent, Packet Received and Packets Lots.
Traceroute- This tool displays the route path and measures the transit of packets across an IP address. Enter the IP address in the search bar and hit the green play button. 
Wake on LAN- This is an Ethernet computer networking standard which turns your PC ON by network usage with the help of MAC address of your network card. Just enter the computer MAC Address and hit the Send button. (Media Access Control) MAC address often referred as Physical Address is a unique identity address assigned to all network devices.
DNS Info– This tool gives you a detailed information of given domain from the selected server.
WhoIs- Get the entire WhoIs information about a particular domain. Just enter a DNS name or an IP address and hit the green button. The tool will display the detailed WhoIs information in real time like who owns the domain, mail exchange record, admin name, etc.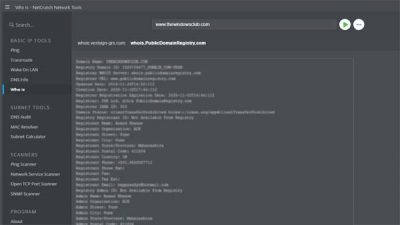 SUBNET TOOLS
DNS Audit- This tool scans a range of IP addresses and perform reverse DNS lookup for each address and helps you identify the DNS settings errors.
MAC Resolver- Enter an IP address or network CIDR notation and this MAC resolver will scan the entire address range and give you the list of MAC addresses for each address.
Subnet Calculator- This tool of NetCrunch Tools set divides the given IP address into various sub-networks by calculating subnet mask, host size, and broadcast address.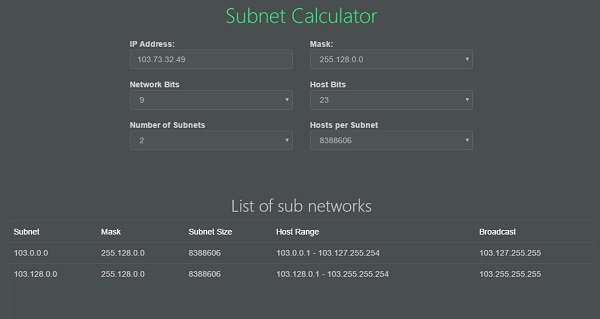 SCANNERS
Ping Scanners- This tool enables you to scan a range of IP addresses periodically and check which all IP addresses are in use.
Network Service Scanner- This tool uses a computer network and gathers the information about the network services running. This service is usually helpful for system maintenance, security assessments, etc.
TCP Port Scanner- This tool helps you discover which TCP Ports are open on a machine. However, you can scan multiple machines at a time. Remember that scanning multiple machines at a time may take some time to display the report.
SNMP Scanner- This tool of NetCrunch Tools set lets you scan the SNMP enabled devices just by entering IP ranges. It scans the device specific information on a given network.
Overall, NetCrunch Toolkit is a straightforward and handy application which brings useful and standard Windows troubleshooting and information tools for you. However, it sticks to the core functionality only, so it will suit you only if your network needs are simple and basic.
What tools can be used to troubleshoot a network loop?
To fix or troubleshoot a network loop on Windows 11/10 PC, you can try the NetCrunch Tool. There are multiple apps available for different purposes. You need to use them one after one to check which one does the job for you. However, you can download those apps for free and use them on your Windows 11 and Windows 10 computers.
How do you do basic network troubleshooting?
Windows 11 and Windows 10 come with in-built troubleshooters so that you can troubleshoot common issues on your computer. Whether it is a network or audio, or video-related issue, you can get rid of it with the help of these in-built troubleshooters. However, you can also try some third-party apps, such as NetCrumch Tool.
You can download it from its home page. It's a 41MB file. The paid version of Netcrunch software comes with advanced features which are for the enterprise.