Every once in a while, while opening my Windows Settings app, I get to see a Runtime Error – This application has requested the Runtime to terminate it in an unusual way. Clicking on OK would close the Microsoft Visual C++ Runtime Library dialog box and make the Settings app crash. If I was lucky enough to start the Settings app again great – else for some reason a restart would make the error gi away. While I was unable to find out why or when the runtime error occurred. I did the following to make the error go away.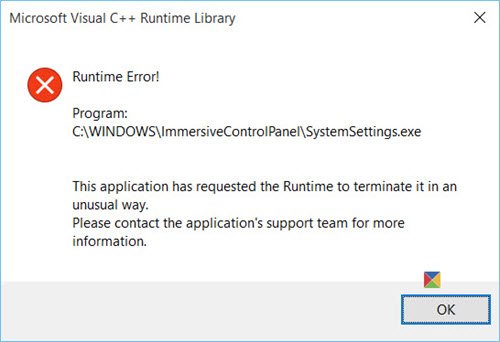 This application has requested the Runtime to terminate it
This error occurs when you run a custom Microsoft Visual C++ program in Windows. It could occur if some Runtime component of Visual C++ Libraries are missing, or it could be a problem with the program which is making this error message come up.
Since in my case the error was occurring while operating the Settings app, which is integrated with the Windows operating system, I decided to do the following:
While you can follow these individual links and follow the process laid down, I have an easier way to suggest to you.
Download our portable freeware FixWin. FixWin is a 1-click repair tool for fixing Windows issues.
On its Welcome page you will see buttons to run the System File Checker Utility as well as to Repair Windows System Image. Use them one after the other.
On its Troubleshooters tab, towards the bottom, you will see a link to Download Troubleshooter for Settings app doesn't launch. Download it from Microsoft and run it.
If the problem continues to occur, you could try to reinstall the Runtime components of Visual C++ Libraries and see if it resolves the problem.