When it comes down to opening files, most of the time, they are locked away in an archive. Usually, this archive is ZIP, but there are instances when it's a format other than ZIP, and as of right now, Windows 11/10 support doesn't go beyond the ZIP standard,
To get to these files, the user will need specialized software designed to open any type of format. There are quite a few free file compression software available on the web. The most known is 7-Zip, and it has been around for a number of years.
TC4Shell file archiver software
Personally, 7-Zip is my go-to software for extracting files from any type of archive, and that has a lot to do with its open nature. However, I recently came across a decent alternative known as TC4Shell, and what can I say, it works really well. This software works with 7Z, Zip, Rar, Cab, Sqx, Tar, Gzip, Bzip2, ISO, WIM, and many other file formats and lets you directly open all the archive formats directly in Windows File Explorer.
How to use TC4Shell
The download size for TC4Shell is close to 8-megabytes in size, so it should be a quick download and install for all. After installation, the program will ask the user to associate files with making things a lot easier going forward. Users can choose either to associate all files with TC4Shell, or just the ones they prefer.
Now then, folks who want to create an archive will simply have to open Windows Explorer, choose the desired folder, then right-click. You should see two options, "Pack to" and "Pack to email." Choosing "Pack to" gives the option to create a 7Z or a ZIP archive. However, be selecting "Customize file type list," you'll get the chance to create an archive with other options.
To extract files from an archive, right-click on the desired folder, and then select "Extract to." It's quite easy to operate. Now, if you're expecting a host of features here where the user gets to mess around with the settings, TC4Shell doesn't go down that route.
Outside of the File type association and Password Manager section, there's basically no other user interface to look at.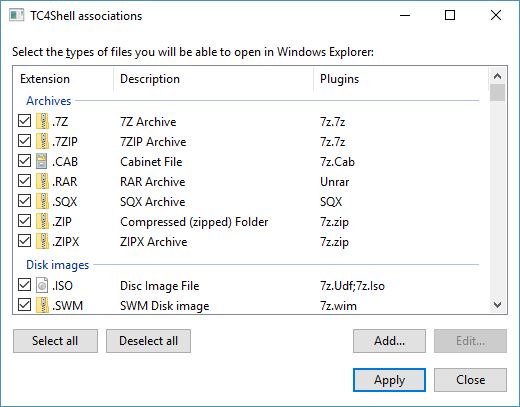 The TC4Shell Password Manager
If you're looking for a decent password manager that isn't overrun with complex features, then what TC4Shell has to offer might be of use. After launching the manager, click on Add to inject your passwords along with an alias.
Overall, TC4Shell is simply a basic archiver that supports a host of formats. If you want to make it a powerful tool, well, it supports Total Commander plugins. You only need to download the plugins and add them to TC4Shell's plugin folder and move on from there.
Download TC4Shell directly from the official website.