The Registry is an essential part of the Windows operating system. It's a database used for storing values, configuration, and paths that Windows and Applications require. Like all others, users can restore the registry when needed. However, if you receive an error that says System restore failed while restoring, copying, or mounting the registry, then this post will help you resolve the problem.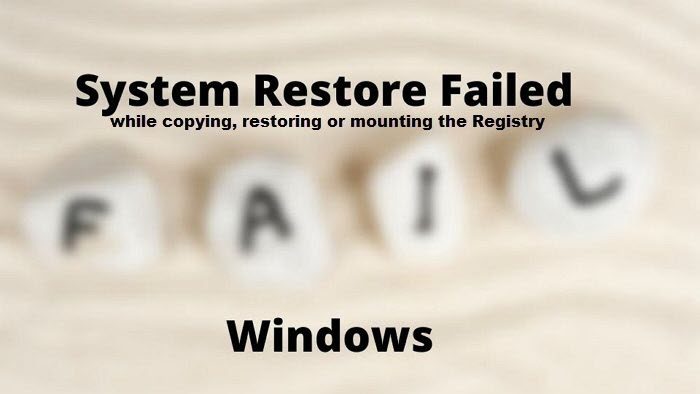 System restore failed while copying, restoring, mounting Registry
The error occurs when the user tries to restore the PC to a previous working state using the System Restore feature. So it's possible that either the problem is because a service is missing or needs to be performed in a state where only Windows Services are running.
Replace Corrupt OS Files
Ensure Volume Shadow Copy Service Startup as Manual
Restore in Clean Boot State
Command Tools in Recovery Mode
Make sure to use an admin account to execute these steps.
1] Replace Corrupt OS Files
If a system file is corrupt, it can cause many problems, including this one. The good thing is that Windows offers a built-in tool that can help you fix corruption with System files only. Perform an SFC scan to rule out any corruption in the system files. If the issue with any of the apps, I would recommend repairing or reinstalling the app before performing the System restore.
2] Ensure Volume Shadow Copy Service Startup as Manual
Volume Shadow Copy service is what makes System Restore work. If the service is not running, issues such as this will continue. It is also triggered by certain events to make a copy of your entire hard disk as a single or multiple sets depending on the number of disks you have. When restoring, data is copied or moved, and if the service is not running, it will stop.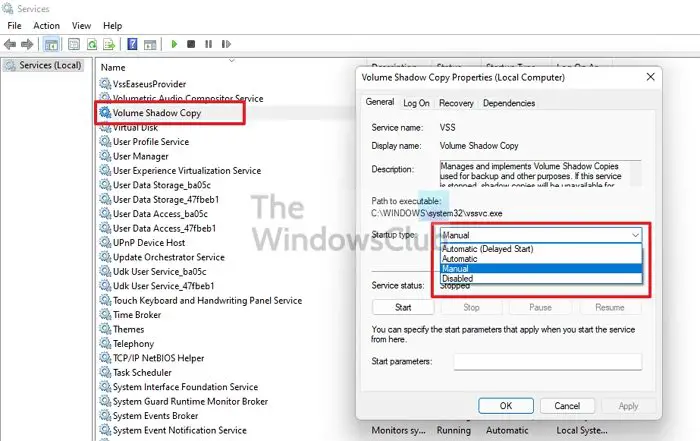 You need to ensure Volume Shadow Copy Service Startup status is set to Manual – which is the defaults setting in Windows:
Open the Run prompt using Win + R
Type services.msc and press the Enter key
Once the Services window opens, locate the Volume Shadow Copy Service.
Open the service, and switch to the General tab.
Make sure the Startup type is set to Manual.
If that does not help, set it to Automatic Delayed
Try restoring using System Restore, and the error should not occur anymore.
3] Restore in Clean Boot State
Clean Boot State is used to diagnose and troubleshoot advanced Windows problems. The computer starts using a minimal set of drivers and programs in this state. Boot Windows in Clean Boot State and then try to run System Restore.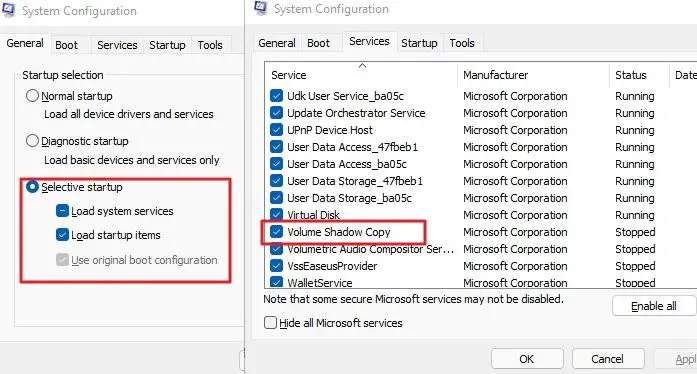 Open the Run prompt using Win + R, type msconfig, and press the Enter key
Switch to the General tab, and choose the Selective startup, uncheck Load startup items.
Switch to the Services tab, select Hide all Microsoft Service and uncheck all the displayed third-party Services.
Apply the changes, and restart
Now perform a System restore, and it should work.
Related: System Restore failed while restoring the directory from the restore point.
4] System Restore in Recovery Mode
If nothing else works, the last hope is to use the Recovery Mode. It offers troubleshooting tools such as Startup Repair, System Restore, access to Command Prompt for command-line troubleshooting. Since in this mode conflict from other services, it should work smoothly.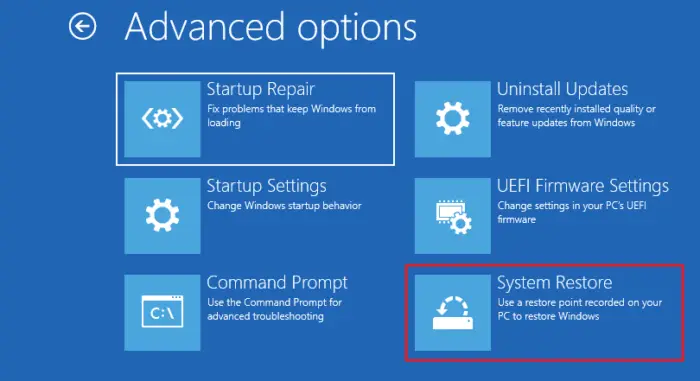 Open Windows Settings using Win + I
Navigate to System > Recovery
Click on Restart now button next to Advanced startup.
Onc the PC reboots and you get to see the Recovery Screen, click on Troubleshoot > Advanced options
Click on System Restore and then follow the wizard
Restore to date, and restart your PC
It should work smoothly, and once you are back in your account, the PC should be in a working state.
What happens if a System Restore fails?
Usually, Windows will revert to the same state before System Restore started. In rare cases, if you get issues, it's best to run SFC and DISM tools to fix any corrupt files. Ensure to use the administrator account for system-related tools.
Read: System Restore not working or did not complete successfully.
How long can a System Restore take?
It can be anywhere between 30 minutes to 45 minutes. It also depends on how many files need to be replaced with the older copy, programs to be replaced, etc. If you have faster storage, the result will change drastically as all file operations will be faster.
Can System Restore be interrupted?
It should not be interrupted because files are being replaced in real-time, and any interruption will result in incomplete changes, file corruption, and more. That is why a fair warning is given to all users that the process should not be interrupted.
I hope the post was easy to follow, and you were able to resolve the problem and perform system restore.