System Ninja is a free junk file cleaner and system optimization software for Windows 11/10/8/7 that promises to boost or at least maintain computer performance by removing unwanted junk files, orphaned registry entries, suggestions optimization tweaks, and more. Apart from this. it packs a Startup Manager, Process Manager and P3P Registry History cleaning tool. While there are many good free Windows optimizers available, System Ninja is yet another you may want to check out.
System Ninja review
Upon launching System Ninja, one can notice that the tool interface is split up into four sections. Firstly, there's a Junk Scanner tab that greets you on startup. Second comes System tools, and then PC Analysis and lastly modest Options screen.
Junk Cleaner
This module thoroughly scans your system for junk files or ones left over by certain programs. Once the system scanning is complete, you can delete a files or ignore them.
Files that can be deleted include,
Windows Temporary Files
Thumbs.db files, and other thumbnail caches.
.tmp files, in all directories
Game caches
Windows Logs
Common Tags
System tools
System Tools includes the Startup Manager, the tab allows you to control the applications that load on boot. You can remove unwanted applications from the boot process, as well as control scheduled tasks. The tool gives you complete control of the Start up items, in short.
The App Uninstaller lets you remove unused or unnecessary programs.
Then there's Process Manager. This section allows advanced users to quickly end unwanted programs without even switching to Task Manager.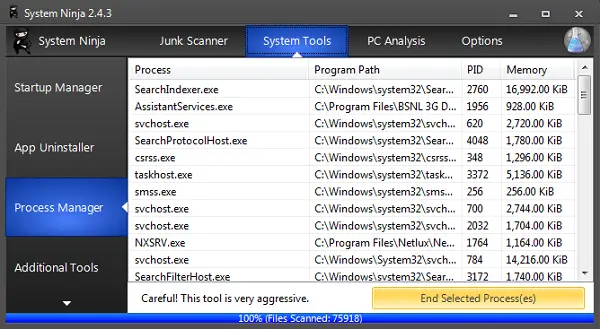 PC Analysis
The third tab is that of PC Analysis. PC Analysis lets you check information about major hardware components such as Processor, hard drives, logical disks, mother board and software like OS, Bios.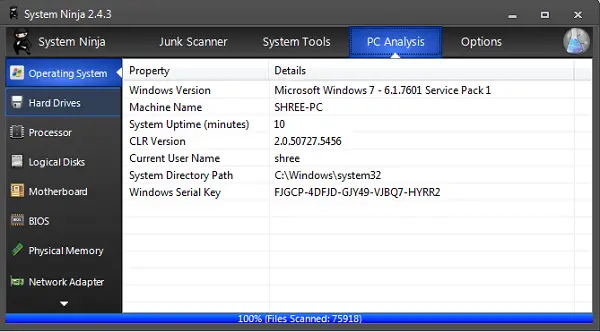 Options
The freeware allows you to configure different options. For instance, you can disable System Ninja from checking for updates automatically, displaying a warning before files are deleted, and more.
This tool offers various other settings options and optimization modules, making it a near-complete optimization software for your Windows computer.
System Ninja download
System Ninja come to you from the makers of CCEnhancer and JavaRa. It is available in multiple languages, including Dutch, English, Portuguese, Spanish and there's even a portable version of it available. Go here if you would like to download it.