If while using your Surface device and you see a black screen with a large Thermometer icon, and your Surface shuts down immediately, then this post is intended to help you. This happens if your Surface device is overheating. In this post, we will describe what the thermometer icon means and provide recommended actions you can take to forestall future occurrences.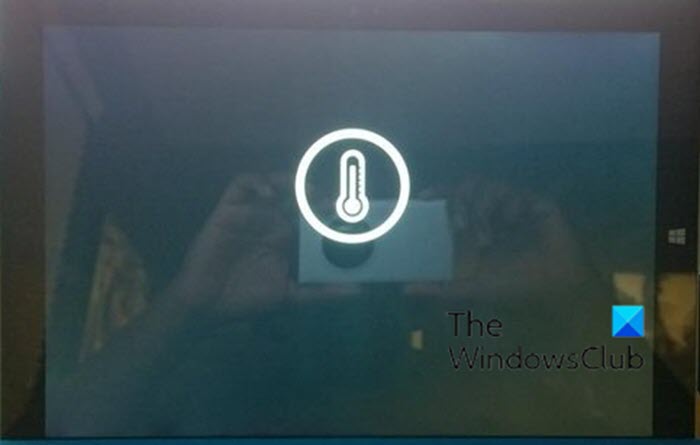 Surface shuts down after black screen with thermometer icon appears
The Surface device is rated as a commercial product for operation at +32ºF (+0ºC) to +95ºF (+35ºC) – so whenever you're operating the device and the thermometer icon appears, it simply means your Surface is too hot.
Microsoft Surface overheating
When this hot indicator appears, you can do the following:
Turn your Surface off to allow it to cool down.
Turn off the device off for about five minutes and move it to a cooler place.
If the thermometer icon continues to appear frequently, contact Microsoft Support.
To reduce heat-related concerns, follow the guidelines below as published by Microsoft.
When in use or charging, try to keep your device and its power adapter in a well-ventilated area and allow for adequate air circulation under and around the device.
Avoid situations like sleeping with your device or its power adapter, or placing it under a blanket or pillow. Also avoid contact between your body and your device when the power adapter is connected to a power source.
While using your device for extended periods, its surface can become very warm, and if the device rests on your lap, your skin might suffer a low-heat injury. So, to avoid any heat injury, what you need to do is to remove the device from your lap and place it on a stable work surface.
The base of your device and the surface of the AC adaptor may increase in temperature during normal use, so try not to place your device or AC adaptor on furniture or any other surface that might be marred by exposure to heat.
The above heat-related concerns apply to Surface, Surface Duo, Surface docking stations, Mobile devices, other non-wearable devices, and Xbox.
I hope you find this post informative and helpful enough!
Related post: Microsoft Surface Studio overheating while gaming.