Microsoft has released a set of Surface Tools for IT, that help IT Pro's and users of Surface devices in the enterprise sector. As the adoption of Surface in business keeps rising, such tools become quite useful in the corporate setup, as they can help IT Professionals deploy, manage and secure a Surface device in their organization.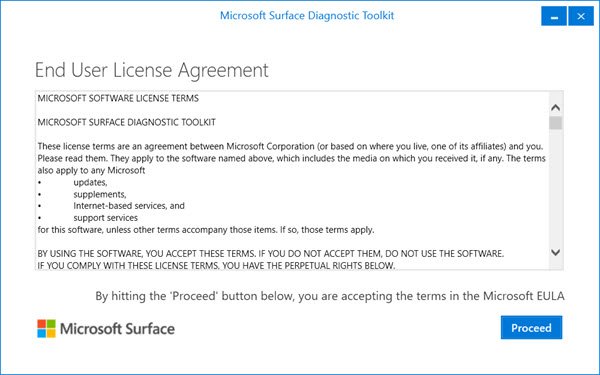 Surface Tools for IT
This bunch of downloads for Surface devices includes the following tools:
Surface Data Eraser Installer
Surface Deployment Accelerator
Surface Dock Updater
Cisco EAP Supplicant Installer
Once you click on the red Download button, you can select the tools you wish to download. You may select one or all. Some require to be installed where some do not.
These tools are supported on Surface devices running Windows 11, Windows 10, Windows 8.1, Windows 8.1 Pro, Windows 8.1 Enterprise and above. That is, they are supported on Surface Book, Surface Pro 4, Surface Pro 3, Surface 3 LTE, Surface 3, Surface and Surface Pro 2 devices.
How do I download Surface Diagnostic Toolkit?
As it is a native Microsoft application, you can find it on the official website. That said, Surface Diagnostic Toolkit is available to download from the support.microsoft.com website. It is available for free, and you can use it on the Windows 11 and Windows 10 OS.
What are Surface tools?
There are multiple Surface Tools available for different purposes. For example, Surface Tools for IT helps you manage, deploy, and secure devices in an organization. On the other hand, Surface Diagnostic Toolkit helps you diagnose problems on your Surface device. Therefore, you need to download and use the respective Surface Tools as per the problem or purpose.
Go here to get them.
Using these tools, you will be able to integrate them to your custom image used for enterprise deployments.