When Microsoft decided to bring the Surface devices to market, the company wanted to make sure that folks could do real work. Now, the Surface Pen pressure sensitivity is not working as it should when folks are using art programs. These owners are having issues with apps such as FireAlpaca, GIMP, and even Photoshop CS6, though it works just fine with Office 365 and the Surface app.
Before going any further, make sure the apps you're using and updated to newer versions if possible. We get that most designers prefer to use Photoshop CS6, therefore, an update isn't in the cards due to Adobe's greedy nature.
Surface Pro Pen pressure sensitivity not working
There are basically two things you need to do to fix the problem:
Alter pressure sensitivity with the Surface app
Install the latest WinTab drivers
1] Alter pressure sensitivity using the Surface app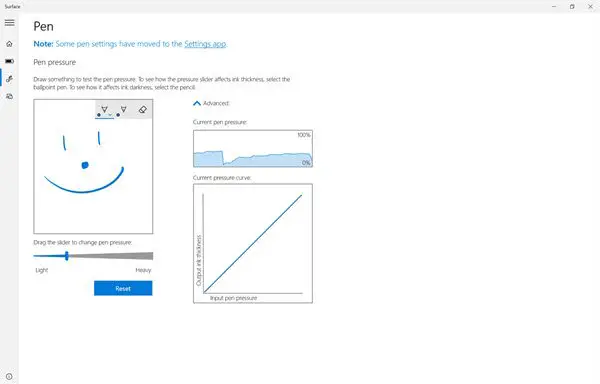 The Surface app should come as default on your Surface Pro, so we simply ask that you launch it and change the sensitivity settings. This might or might not work, but at the same time, it doesn't hurt to try.
We should also point out that the Surface app only works on Surface devices, so don't bother thinking about downloading the app from the Microsoft Store for a non-Surface product.
2] Install the latest WinTab drivers
Here's the thing, we strongly believe the reason why your Surface Pro is having problems with pressure sensitivity where GIMP and other programs are concerned has much to do with the WinTab drivers.
What you need to do at this point, is run Windows Update on your Surface device or download and install the latest Surface software, firmware, and drivers from Microsoft.
The following are the drivers you should download, and after that, check if the pressure sensitivity is back to normal and working as it should. These links are for downloading all current  for the Surface; including optional WinTab drivers:
Surface (Wi-Fi)
Surface (AT&T 4G LTE)
Surface (4G LTE) in NorthAmerica (non-AT&T)
Surface (Y!mobile 4G LTE)and Surface 3 (4G LTE) outside of North America.
Trust this helped you resolve your Surface Pro sensitivity issues.
Related reads: