Surface devices, especially the Surface Book devices are pretty complex. The Surface Book's display can be taken off to be used as a tablet whereas the Surface Pro is a tablet which gets an external keyboard (type cover) and a mouse attached to it. These external devices steal away a little portion of the battery life of these devices. But the Surface team at Microsoft is good at optimizing them as hardware and the software that it does not make a difference at all. But at times, Surface devices may get into a state where their Battery does not charge.
Some of the common symptoms of your Surface Device not charging would be:
Surface and Windows start but you're having trouble charging your Surface
You receive a low-battery error
Surface turns off when you unplug it
So, this means that either your battery has gone totally dead, the charging circuit has failed or your power adapter is not working properly. Now, let us just try to troubleshoot this issue step by step.
Surface battery not charging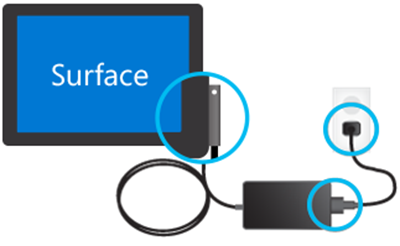 Checking the connections
First of all, you need to make sure that there is no interruption that would prevent your Surface or Windows 10 from starting or the battery from charging. Check if all the connections are done as intended and the wall charger is plugged in and it properly has some current.
It is also recommended to use the official charger for your device as third-party chargers are not very good and compatible for the device itself.
Checking the power connection light
Now, after plugging in the device, make sure that the LED Light is on after the power connector is turned on. There might be 3 scenarios now.
The LED light might be off: Make sure that the power connections are properly made. The wall outlet you are using is actually supplying in some charge to the adapter.
The LED light is flashing: If the LED light is flashing, make sure that the adapter you are using is the one recommended by the manufacturer. Try plugging it elsewhere, try rebooting your device and if it is still flashing, you may need to get the power supply replaced from Microsoft.
The LED light is perfect on: If you are using one of those Surface Book devices, first of all, make sure that your display and the base are properly connected. The detach button is not blinking any sorts of green lights. Or else try detaching and reattaching your clipboard to the base to fix the issue. Else, you can use a pencil eraser to rub it on the connectors in order to clean them or to take things to a level further, use a wet cotton swab in alcohol to clean the pins on various ports like the charger connector and USB ports.
If your device is still not charging, you can try some general steps to fix this issue. These steps are:
Shutting down and then charging your Surface device
So, you would first need to shut down your Surface. For this, select the Start Button and then click on Power > Shut down.
Now, Plug inyour Surface device. Let it charge your Surface device for at least 30 minutes and then press and release the power key to turn it on.
Make sure your Windows is up to date
Make sure that the version of Windows that you are using is up to date with all the latest fixes from Microsoft.
Force a Shutdown and restart
Now, you can even try to force a shutdown and restart your Surface device.
You will have to press and hold the physical Power button on your device for at least 10 seconds until the screen goes off and you see the Microsoft logo again.
If that does not work, try pressing the physical power button for at least 30 seconds and then release it. Now, press and hold the volume up button and the power button for at least 15 seconds. You might see the Surface logo flashing on your screen but keep on doing as mentioned.
After releasing the button wait for at least 10 seconds and then press and release the power button to see your Surface device botting up.
For devices that come with a USB Type C connector
If you use the USB Type C connector to charge your device, try using the Surface connector charging adapter that came with the device in the box. Else, if you are using a USB Type C charger only, make sure that is at least USB 2.0 or USB 3.0 compliant, provides 5 volts, 1.5 amps, or 7.5 watts of power rating. The low voltage USB type A to USB type C chargers will not work at all.
If your battery is fully drained out and you are using a charger with a rating of 60 watts or more, your device will turn on instantly when plugged in or else, it will get to a charge of 10% at least to turn on.
For a Surface Book without a GPU from NVIDIA and a regular base, a power rating of 33 watts is needed and for the one with the NVIDIA GPU, 93 watts of a power supply is needed.
For a Surface Go, a charger with a rating of 15 watts and more is recommended. If you are using a charger with a power rating of 12 watts or less, the battery might not charge at all and would eventually drain out battery more than charge if you are working at the same time too.
If you need more details, visit Microsoft.com. You may want to also read our post on Laptop Battery Usage Tips & Optimization Guide for Windows.
Related read: Windows laptop Battery charging slowly.