Microsoft earlier launched Xbox Adaptive Controller for people with mobility impairment.  Now, they are making their new Windows 11 Surface devices including laptops and tablets more accessible with the Surface Adaptive Kit. This kit is a set of tactile tools that enable users to identify specific keys, functions, and ports and cables on their devices. The thought behind this is to make devices accessible for users with disabilities. The components included in the Surface Adaptive Kit make it easier for disabled people to identify certain features through touch and feel.
Improve Surface Accessibility
The Surface Adaptive Kit might be available later this year. However, the pricing of the same is not disclosed yet. The kit is planned to be used with surface devices like Surface Pro 7/ 8, Laptop 3, Book 3, and Laptop Studio. Now, how you can use this kit with Surface devices? Well, this guide will help you get started with the Surface Adaptive Kit.
Make Surface devices accessible with Surface Adaptive Kit
Here are the key points that we are going to discuss in this guide to make Surface devices accessible with Surface Adaptive Kit:
Main Components in Surface Adaptive Kit.
What are the uses of Bump labels?
How to use Keycap labels?
What are Port labels?
How many Opener Supports are there?
1] Main Components in Surface Adaptive Kit

There are basically four main components in Surface Adaptive Kit. But before that, let us talk about how to open the box. Well, it's as simple as it gets. You can pull out Open the tab on the back and detach the sleeves from the box. Then, open the lid using the notch present on the front side of the case/ box. You will find a folder with a huge loop inside the box. Simply detach the folder using the loop. Inside the folder, you will get four cards containing each component of the Surface Adaptive Kit.
The components will be placed from top to bottom in the below order:
Bump labels
Keycap labels and applicator
Port labels
Opening support
So, this is the list of main components of the Surface Adaptive Kit. Let us now discuss each of these components in detail.
See: Set up Windows Hello or Fingerprint Reader on a Surface device.
2] What are the uses of Bump labels?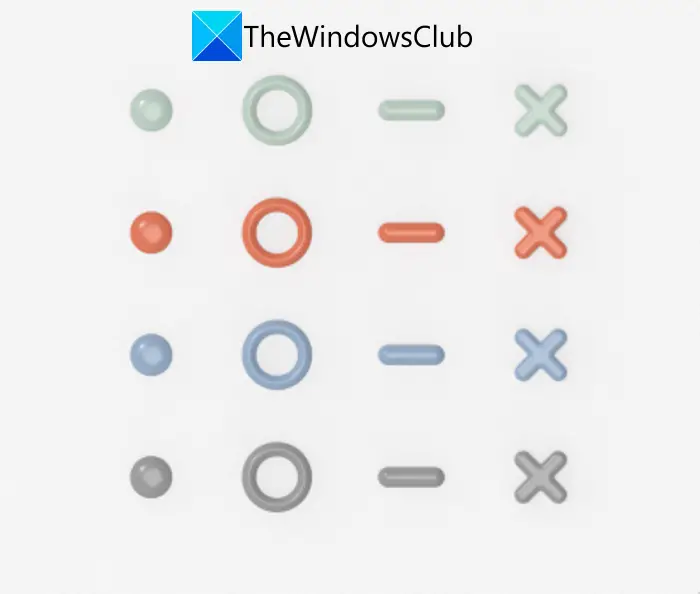 Bump labels are basically tags or marks used or applied anywhere in order to identify different features and functions like buttons, ports, keys, and more. A total of 16 bump labels in four shapes and colors come with the Surface Adaptive Kit. The shapes used for Bump labels include a solid dot, an open circle, a dashed line, and an X (cross) mark. For each shape variation, different colors are used including Blue, Green, Orange, and Gray.
To use bump labels, you can simply peel out the desired shape in the desired color from the card. And then, put it on or next to the feature that you want to recognize through it. These are the potential uses of Bump labels in the Surface Adaptive Kit:
You can put the dot button from the bump labels next to the audio jack.
The circle button bump label can be used on the Function key.
You can use the cross mark (X) and dash buttons near the volume keys.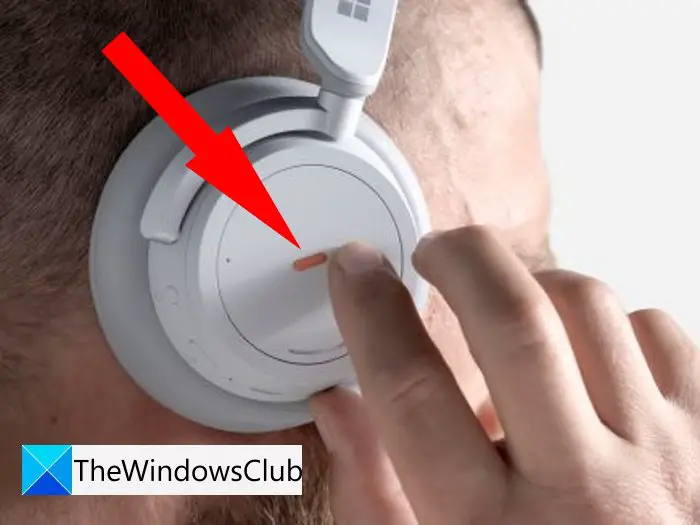 There can be several other uses of bum labels as per your preferences. Just place any of the bump labels on to the function you want to identify.
See: Surface device finds available wireless network but won't connect
3] How to use Keycap labels and applicator?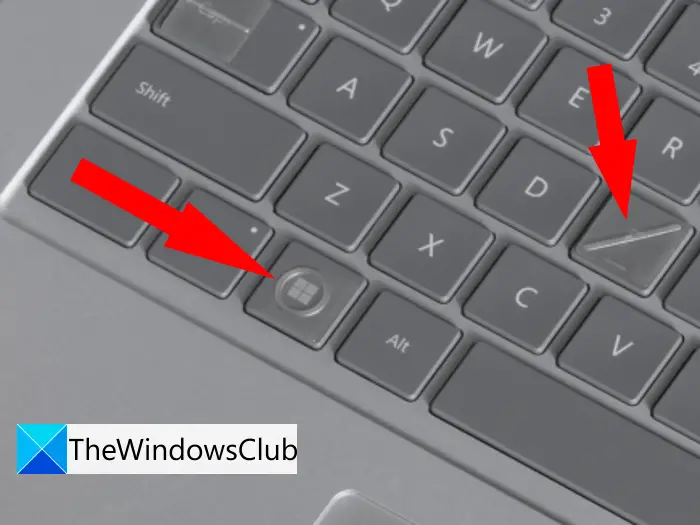 Just like bump labels, keycap labels are also marks that are used to identify certain features. However, keycap labels are specifically designed and used to identify keys on the keyboard. There are a total of 16 keycap labels that you get in the Surface Adaptive Kit. These keycap labels are transparent with a raised feature on them.
The 12 keycap labels are:
There are eight keycap labels with lines in different orientations and lengths.
You can find three arrows labels too.
There is one large horseshoe label.
One keycap label applicator is also present.
Now, to apply any of the keycap labels, you can either use your hands or the keycap label applicator that comes with the keycap card in the lower right. However, using a keycap label applicator is recommended for you as it helps you apply labels to keys more consistently. Let us now check out how you can use the Keycap applicator.
How to use the keycap applicator?
To use the keycap applicator, you can follow the below simple steps:
First, peel one of the 16 keycap labels that you want to apply from the keycap card and then put it back down loosely.
Now, simply peel out the applicator from the keycap card. The middle section is a kind of sticky that will enable you to lift and apply the keycap labels.
Next, to pick up a keycap label, just put the center of the applicator onto that label.
After that, place the keycap applicator with the label onto the key on your keyboard which you want to label.
Then, pin the applicator with the label hardly on the key and remove the applicator by lifting it up from the label.
Finally, while the keycap label is on the key, pin down the label onto the key firmly so that it is clung onto it properly.
Read: How to connect and use Surface device with iPhone, iCloud, and iTunes
4] What are Port labels?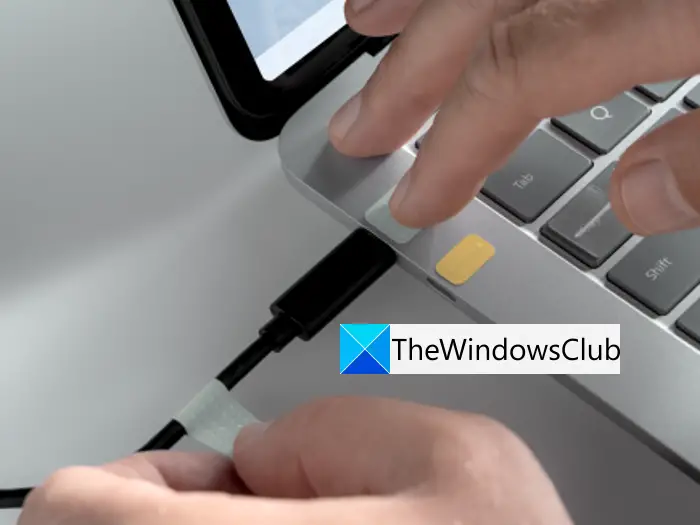 Now, we will talk about the 3rd component of the Surface Adaptive Kit i.e., Port labels. As the name suggests, the port labels are used to recognize and match cables and ports on your device. You can find a total of 10 labels grouped into five pairs. To identify different port label pairs visually or by touch, each pair is assigned a different color and a tactile design.
Each port labels' pair is described as below:
There is one long label with dense bumps in Green color, while one short green label with dense bumps is also available.
A long label with repeating short lines and a small label with three small lines in Red color is another pair of port labels.
You also get a long and a short label in Blue color with repeating open circles and an open circle, respectively.
Another pair of port labels is in Yellow containing a long and a short label with a single line.
There is also one long and one short label in Gray color, each with a jagged line.
To use a pair of port labels for identifying and matching ports and cables, you can put the shorter label next to the port on your device that you want to identify. And, wrap the longer port label from the pair around the cable that you use with that particular port often.
See: Microsoft optimizes Edge for Surface Duo and other foldable devices
5] How many Opener Supports are there?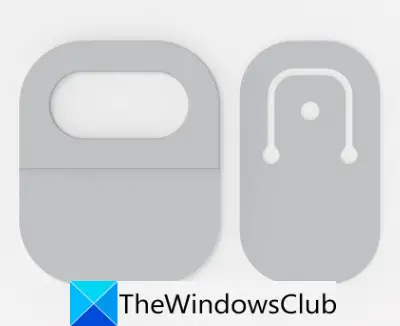 In the Surface Adaptive Kit, you get two opener supports. The first opener support contains a larger loop and is primarily designed to help you open a laptop lid. You can put this opener support on the fringe of the laptop cover with the loop hanging off.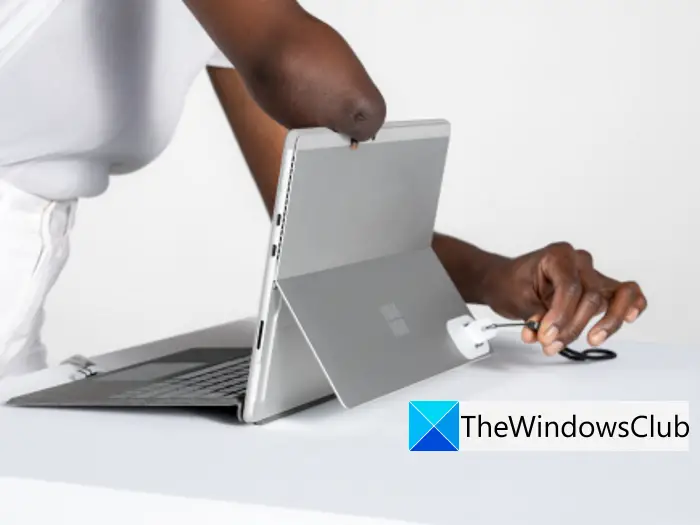 The second opener support consists of a middle flexible section to be able to attach a lanyard or wrist strap. Do note that the lanyard is not included in the kit. However, you can purchase some cool lanyards in different styles online. This supports is specifically designed for the Surface Pro kickstand.
Hope this guide helped you learn how to make surface devices accessible with Surface Adaptive Kit.
Source: Microsoft.
What are Windows 11 Accessibility features?
Windows 11 Accessibility Features have improved upon the accessibility for people with disabilities at but the number of features and their location. While these features fell under the Ease of Access menu in Windows 10, it is a direct tab under the Settings menu in Windows 11. Over and above the familiar accessibility options with Windows 10, Windows 11 offer additional options like CART services, speech commanding, screen readers, magnification programs, etc.