English has become a routine language for business and administrative communications. As such, Office applications like Microsoft Word and others feature built-in software to automatically correct misspelled words and sentences. While this appears to be convenient for documentation work, it becomes an annoyance for exchanging casual documents. Also, it may start flagging all Contractions like we're, shouldn't, etc. as errors for no apparent reason. If you have been troubled by this issue here's how to stop Word from underlining Contractions as errors.
Stop Microsoft Word from marking Contractions as errors
Word will mark Contractions such as "I'm", "don't", etc, as grammatical errors, showing a dotted or red wavy line underneath them. if you do not find it useful, here's the way to disable it. It will show wavy red underlines for misspelled words or contractions. The purpose behind featuring this is to discourage informal academic writing. So, it is more kind of a "style" issue. Nevertheless, you can change this. To disable this change, do the following,
Click the "File" tab residing on the ribbon menu in Microsoft Word.
Next, choose "Options" from the list displayed. The option will be visible to you at the bottom left corner of the menu.
When done, click the 'Proofing' category in the left sidebar of the Word Options window. Here, you can change how Word corrects and formats your text.
Scroll down and click the "Settings" button just adjacent to the Writing Style under the "When correcting spelling and grammar in Word" section.
Again, scroll down in the Grammar Settings window that appears and uncheck the "Contractions" option under Formal Language.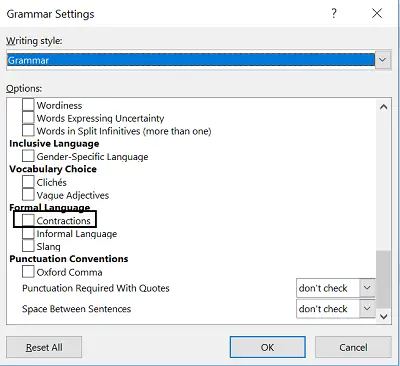 When prompted with the warning message ignore it and proceed.
In the end, click 'Ok' to save the changes made.
That's it! Hereafter, if when you launch the Microsoft Word application and type something, it won't warn you about contractions errors.
At any point in time, if you feel to undo the changes you can access the same settings and simply uncheck the option again.