Have you ever noticed how Amazon ads follow you wherever you go over the internet? Have you ever wondered why Amazon is showing advertisements of things you actually want to buy? This is because they are following you and your internet activities and behavior. Right from your Amazon searches to what you view, everything is stored in the database and is then used to serve you the targeted advertisements.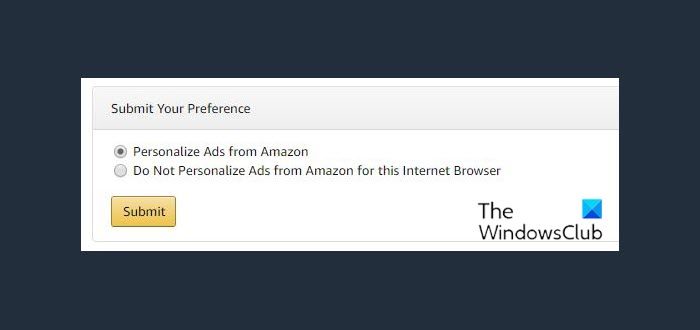 Amazon claims that they do not sell your information to any third party, they use it to serve you with better relevant advertisements. As a matter of fact, this is done just to help you select the product of your choice but actually becomes annoying at times, and we just don't want Amazon to show us the advertisements everywhere on the internet.
Stop Amazon ads from stalking you on the web
Thankfully, there is way out to this problem. You can easily opt-out of these ads and stop Amazon from following you all over the internet.
It is very simple and can do that in just a few clicks. Just visit amazon.com/adprefs on your web browser and select "Do Not Personalize Ads from Amazon for this Internet Browser" as your option.
Remember that this setting is done only your current web browser. If you use a different web browser, you may again see the targeted and personalized ads from Amazon and its affiliated websites.
The option is selected to "Personalized ads from Amazon" by default and this is the reason that you get personalized and targeted Amazon ads everywhere you go on the internet.
Please note that if you choose not to see the personalized ads, Amazon will stop showing you the products similar to what you were looking for. You may see Amazon ads but they may or may not be according to your taste and interest. Also, the settings are managed via your HTTP cookies, so if you delete the cookies, you have to change the settings again to opt out the personalized ads.
Furthermore, if you don't want Amazon to track your browsing history you can opt-out of that too. You can delete your Amazon Browsing History quickly so as to avoid Amazon tracking your internet activities.
Read next: How to stop Google ads from following you around the Internet.
Other similar posts that may interest you: