While you use Outlook, data files containing all the records about the things you've used Outlook for, are generated automatically. These files are in the .PST format and you can find them inside My Documents/Outlook Files in the Files Explorer for Windows 11/10/8/7. An Outlook Data File (.pst) is used for POP3 and IMAP email accounts. Additionally, when you want to create archives or backup files of the Outlook folders and items on your computer, such as Exchange accounts, you create and use an additional Outlook Data File (.pst).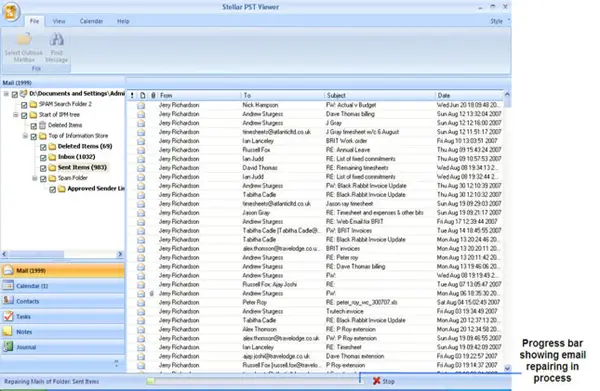 Stellar Viewer For PST
With the passage of time, there may be a situation that the data file so generated automatically being corrupted or damaged by itself. Due to this, you can't use these .pst files to view the content and data inside them. In such a scenario, you can use Stellar Viewer For PST, which helps you to open and view the contents of corrupted .pst files. It's a handy freeware that works on all the Windows operating systems, and we tested it to review its working.
To get started with Stellar Viewer For PST, you just have to open the .pst files whose location we mentioned earlier in this article, and automatically all the contents of it will be loaded. Hence you can easily browse the content of Outlook data file so far. Now let's see what features are offered by this tool:
The tool can scan any Outlook PST data file to view its emails and other mail items, including the calendars, contacts, notes, tasks, and journal entries, etc.
If you use 'Select OST File' option, it will fetch the corrupt PST file from a known location. If you use 'Find OST File' option, it will search for all the corrupt PSTs in the selected drive as the location is unknown
The usefulness of the free PST viewer is that you can save any individual mail as EML, MSG, HTML, RTF, or PDF format after it is scanned
You can view the emails with all the details in the fields, such as the 'subject line', 'From', 'To', 'CC', and 'BCC.'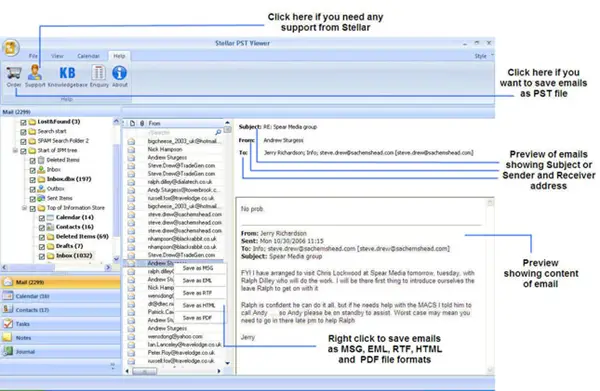 To save any documents as individual mail, simply, right-click the mail, choose the format in which you want to save the mail, and then save it at a suitable location in your PC. Thus in this way, you can also extract the selected mail for backup from a damaged Outlook data file.
You can download Stellar Viewer For PST from here. It is free!
Read: Stellar Photo Recovery Review.
Best Outlook repair software
While this freeware Stellar Viewer For PST will help you scan and view damaged Outlook PST files, it will not repair them. Stellar Repair For Outlook is an outstanding software that will help you repair PST files. Go here if you want to repair corrupt Outlook PST files using other methods.
Related reads: