If you want a different experience from the one given by the Start Menu of Windows 10 you can check out this software called Start Everywhere. It is a Start Menu substitute that works for Windows 111/0/8/7. With the help of this portable software, you will be able to open various installed software, folder, file, access power options, and more.
Start Everywhere Windows Start Menu alternative
Start Everywhere is a portable freeware that is available for 64-bit Windows. However, if you have 32-bit Windows architecture, you can take the risk to check out the experimental feature, but that is not recommended.
Talking about the features of Start Everywhere, in a nutshell, they are:
Open any app or folder: You can access almost any path, folder, file, etc. from this tool and open them accordingly.
Two-way access: Most of the other Start Menu alternatives do not allow you to get a dedicated icon to access various stuff. You can replace the original Start Menu of your Windows computer with this software as well as open the app from any window if you pin it in the Taskbar.
Power options: The in-built Start Menu of Windows contains all the power options so that users can turn their computer off or sign out from an account or so. They are included here too.
Open pre-installed apps: If you are using Windows 10 and you want to open some pre-installed apps such as Calendar, Mail, etc., you can do that.
Add custom folder: It includes so many important folders by default. However, if you are not happy with them, you can insert your desired folder and open it according to your needs.
Open system tools: Sometimes, you might need to open some system tools such as Command Prompt, Task Manager, etc. If so, you can do that as well with this utility.
Customization: The best thing about this tool is that you can customise the look according to your requirements.
After opening Start Everywhere on your computer, you can find the following icon-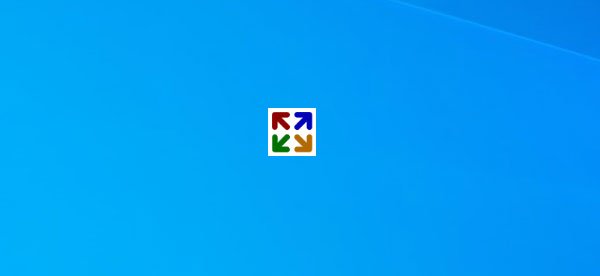 If you click on this icon, you will find all the offerings on your screen-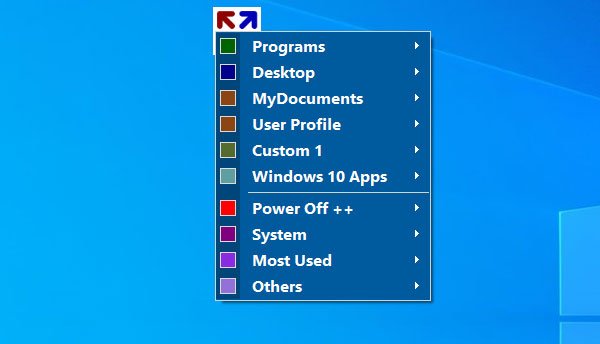 From here, you can open any folder, file, app, system tool, etc. For example, the Programs section contains all the installed software. They are categorized in alphabetical order so that you do not need to spend much time to find something effortlessly.
As the name suggests, you can find all the pre-installed apps of your Windows 10 computer if you click the Windows 10 Apps option. Similarly, the Power Off++ option contains all the power options such as Shut Down, Restart, Log Off, Sleep, etc. If you want to open the God Mode, Command Prompt, Task Manager, and other system tools, you need to check out the System menu.
How to change the theme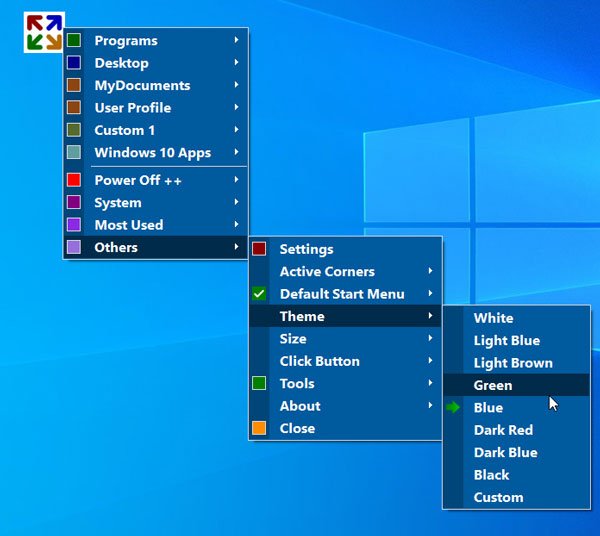 By default, Start Everywhere comes with a blue theme. If you do not like to use this default theme, you can change it to something else.
For that, go to Others > Theme and select a color scheme that you like.
Start Everywhere settings
This software offers a couple of options or settings that you can utilize to make it perfect for you. The Settings Panel contains a few tabs named General, Colors, Fonts, Select Menu, etc. Each tab contains related options. For that, the General tab has a few options to show/hide extensions, active corners, etc.
The Colors tab lets you choose a preset theme or make something that suits you. From the Fonts tab, you will be able to change the font.
If you want to add or remove a folder from the Start Menu, you can switch to Select Menu tab, and select something that you want to add to the list.
That's it! If you like, you can download Start Everywhere from the official download page.
Similar posts that may interest you: