Is your Brave browser running slow on your Windows PC? Brave is a free and open-source web browser based on Chromium. It is touted to be a fast, secure, and private web browser for Windows that prevents website trackers by default. However, some Windows users have reported that Brave runs too slowly or starts lagging while on their computers.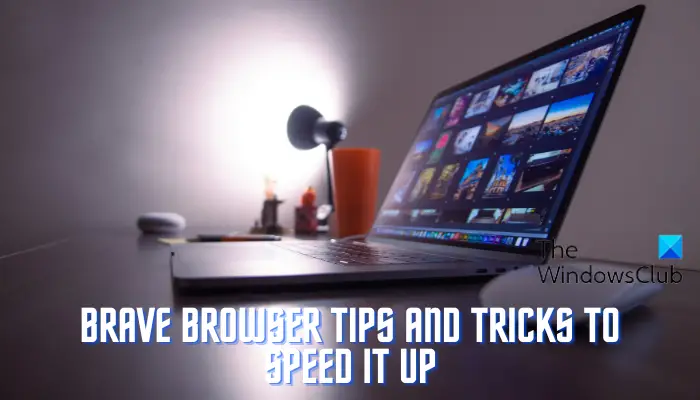 Why is my Brave browser so slow?
One of the primary reasons is using too many add-ons and extensions.  Apart from that, if you open too many tabs or use an outdated browser version, it will slow down your browser performance. It can also occur if your browser is loaded with too much browsing data, including cache and cookies. Some have reported that enabling hardware acceleration or using a VPN caused Brave to run slowly.
Speed up Brave browser using these Tips and Tweaks
To speed up the Brave browser on your Windows PC, you can use the following tips and tweaks:
Make sure your Brave browser is up-to-date.
Close unused tabs.
Disable your problematic extensions.
Clear old browsing data.
Switch off hardware acceleration.
Turn off your VPN.
Reset or Reinstall the Brave browser.
1] Make sure your browser is up-to-date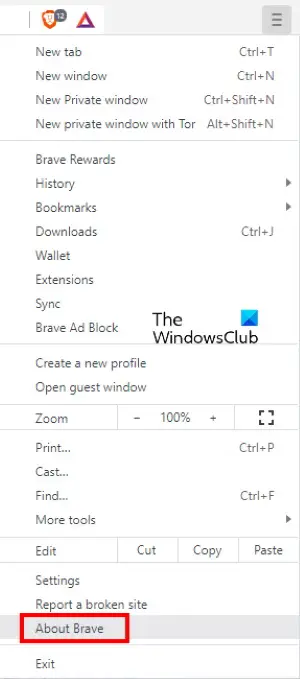 To ensure that your browser works smoothly and you enjoy new features, you must keep your browser up-to-date. You are likely to experience performance issues in an outdated browser. So, update your Brave browser. You can manually update Brave and check if the issue is fixed.
Here are the steps to update Brave:
First, open your Brave browser and tap on the three-bar menu button present at the top-right corner.
Now, click on the About Brave option and let the browser scan & download available updates.
Once the updates are downloaded, restart your browser to complete the installation.
Once Brave is updated, check if the performance issues are now fixed.
TIP: Fix Unable to download files on Brave browser.
2] Close unused tabs
If the Brave browser is loaded with too many tabs at a time, it will cause your browser to slow down and deteriorate its overall performance. This mostly applies to an older browser version as the latest versions are better at handling multiple tabs. However, you should avoid opening too many tabs at once. If there are multiple unnecessary tabs opened in your browser, you can close them. See if the problem is resolved.
3] Disable your problematic extensions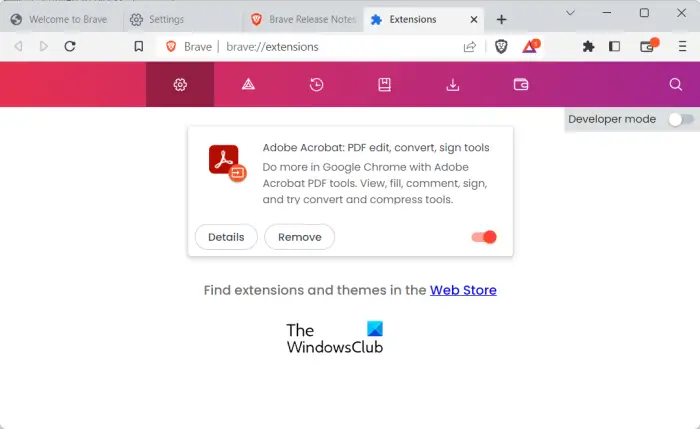 Extensions and add-ons are handy tools to add more features to your browser and enhance its feature set. However, some problematic extensions can also make your browser slow down and also cause some other performance issues. So, if you have installed multiple third-party extensions in your Brave browser, consider disabling your extensions; consider removing unpopular web extensions.
To turn off your extension in Brave, you can use the below steps:
First, open Brave and press the three-bar button.
Now, select the Extensions option from the appeared menu options.
Next, on the Extensions page, disable the toggle associated with your extension or click on the Remove button to uninstall the extension.
After removing extensions, the Brave browser should start performing well.
Read: Brave browser not loading pages from Outlook or other websites.
4] Clear old browsing data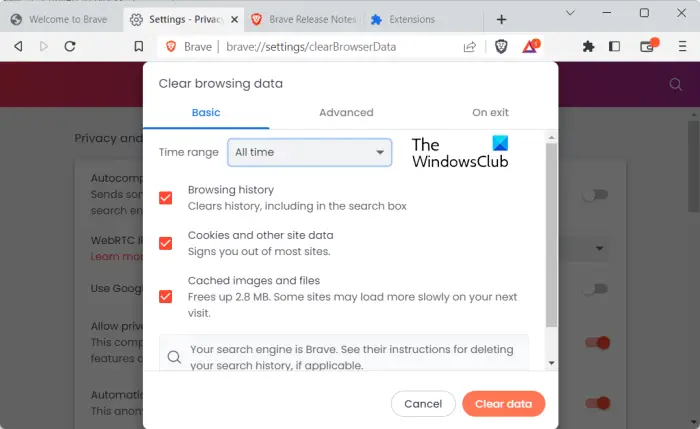 The next tip to speed up your Brave browser is to delete your browsing data including history, cache, and cookies. If there is too much browsing data bulked up in Brave, the browser is likely to slow down. And, it also causes other issues in the browser. Hence, if the scenario is applicable, clear your browsing data in Brave. Here's how:
First, open Brave, click on the three-line menu button, and select the More tools option.
Now, choose the Clear browsing data option.
Next, in the Clear browsing data prompt, select Time range as All time and tick Browsing history (if you prefer clearing your history), Cookies and other site data, and Cached images and files checkboxes.
After that, press the Clear data button to clear your data.
Once done, restart Brave and see if there is an improvement in its performance.
See: Fix The installer failed to start – Brave browser.
5] Switch off hardware acceleration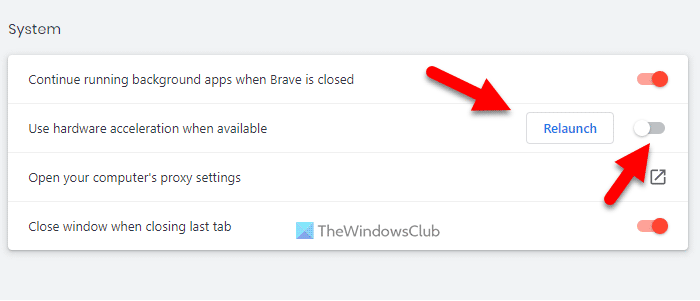 Hardware acceleration is a handy function that uses hardware to speed up specific tasks. While it is used to run the browser smoothly and efficiently, it might also overload your GPU and slow down your browser. Hence, you can try disabling hardware acceleration in your Brave browser. See if it helps.
Here's how you can do that:
First, open the Brave browser and click on the three-bar menu.
Now, click on the Settings option and navigate to the System tab from the left-side pane.
Next, switch off the toggle associated with the Use hardware acceleration when available option.
Read: Fix Error code Out of Memory in Brave.
6] Turn off your VPN
If you are using a VPN on your computer, try disabling it and check if it helps in speeding up Brave. It might be the case that VPN is slowing down your browser, especially while streaming or buffering videos. So, turn it off and see if there is an improvement in Brave's performance.
Read: Brave browser high CPU and Memory usage.
7] Reset or Reinstall the Brave browser
Reset the browser using the Brave browser settings and see if it helps. If that does not help, we suggest you uninstall the browser via Windows Settings or Control Panel. When the process is complete, remove the residual files from your PC. For that, delete the BraveBrowser folder from the C:\Program Files (x86) location. When done, reboot your computer and download the latest installer for the Brave browser from its official website.
Now, launch the Brave browser and check if the problem is resolved.
Read:
How to boost browser speed?
To boost the speed of your web browser, you can disable unnecessary add-ons from your web browser, close unused tabs, update your browser to its latest version, and clean up browser cache and PC junk. You can also enable Preload pages for faster browsing to speed it up.