When you try to open a PPT file on a network share or access a PPT downloaded from the Internet, PowerPoint may block it. You may see an error message flashing on your computer screen with the following description – Sorry, PowerPoint can't read. Here's what you can do to fix the problem.
Sorry, PowerPoint can't read
We suggest the following three methods to resolve this issue:
Temporarily disable the antivirus software
Unblock the PPT file
Make changes in the PowerPoint Settings.
Let us see them in detail.
1] Temporarily disable the antivirus software
If you are sure that the PowerPoint deck is from a safe source, you may, as suggested in the error message box, temporarily disable your security software and ten try to open the file.
2] Unblock the PPT file
Launch the File Explorer.
Select the file refusing to open or giving an error.
Right-click it and select Properties.
Next, in the Properties dialog box that appears, look for an Unblock button adjacent to the Security description.
When seen, click Unblock > Apply, and then hit the OK button to dismiss the dialog box.
Now, try opening the PPT file again.
3] Make changes in the PowerPoint Settings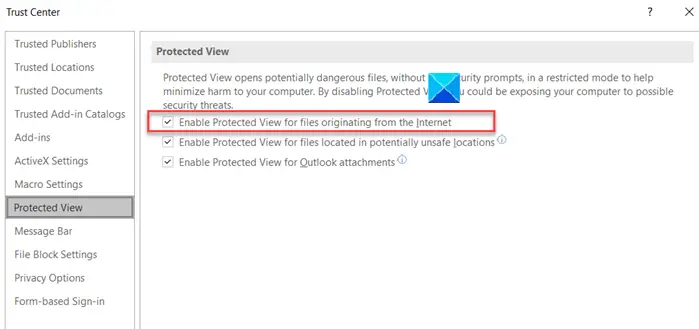 Launch the PowerPoint app.
Next, select the File tab from the Ribbon menu, and from the list of options displayed select Options.
When the Options window opens, scroll down to find the Trust Center entry in the left-pane.
Select it and move to Trust Center Settings on the right.
There, choose Protected View on the left then, uncheck the box marked against Enable protected view for files originating from the Internet.
Try opening the file again.
The issue seems to occur because of Windows 11/10 and PowerPoint app trying to protect and block suspicious files from being accessed or executed.
Related: PowerPoint is not responding, freezing, hanging, or has stopped working.