If you are a working professional, chances are that you have had to prepare a presentation at least once in your life. The same can be said even for students, and the most commonly used tool to prepare presentations on a computer is Microsoft PowerPoint. It's the most commonly used presentation utility by a mile. Working in PowerPoint, you can face several errors, one of them being "PowerPoint found a problem with content".
Fix PowerPoint found a problem with content
This article will discuss the workarounds you can implement to get rid of this error in Windows 10.
Repair the source file and see
Unblock the PPT file
Disable Protected View
Add the current location of the file to the Trusted Locations list
Move the PPTX file to an unsynchronized folder
1] Repair the source file and see
Click on the Repair button and see if that works. If not, read on.
2] Unblock the PPTX file
If you find this error in a PPTX file that you've received from some other user, the file may be blocked from being edited. If that is the case, you can configure its settings and unblock them. Here's how that can be done:
Visit the location where this PPT file is saved
Locate the file and right-click on it and open Properties
Under the General tab, you'll see Security settings next to which there is an Unblock button. Click on it and close the dialog box
Remember that this option will not be visible in the Properties of all PPTX files and is only limited to blocked ones. If you can't find this option, crack one of the other solutions.
3] Disable Protected View
Another solution to the problem is to disable the Protected View option from your PowerPoint settings. These are the steps you need to take to do that:
Open the PPT file that you are facing this issue with and click on File. From the options pane to your left, select Options. Now, click on the Trust Center and further select Trust Center Settings.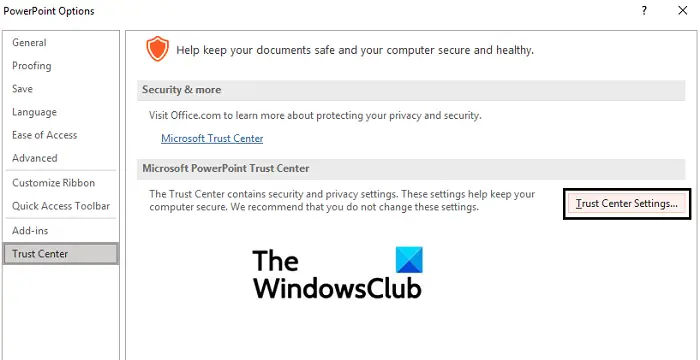 This will open a separate window under the Protected View option where you'll see three options selected by default. Un-check these three and click on Ok to implement the change.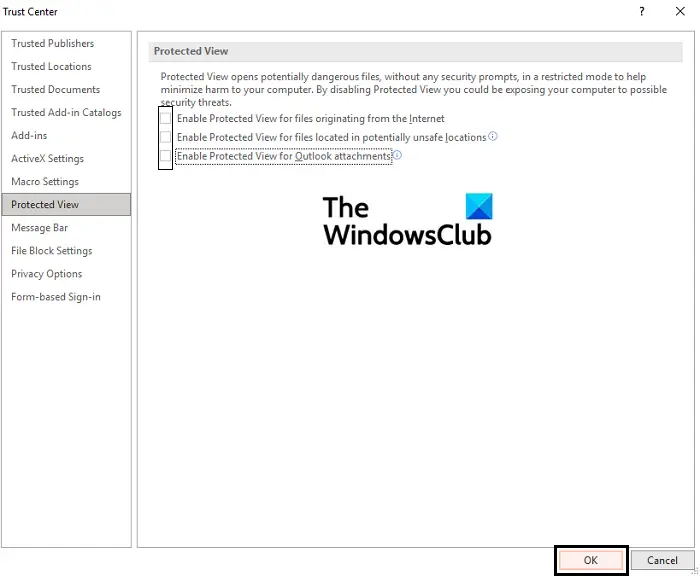 Try opening the PPT file again and check if the issue persists.
4] Add the current location of the file to the Trusted Locations list
Go to the Trust Center as has been prescribed in the solution above and open the Trust Center Settings. From the options pane to your left, click on Trusted Locations.
Here, select Add a new location.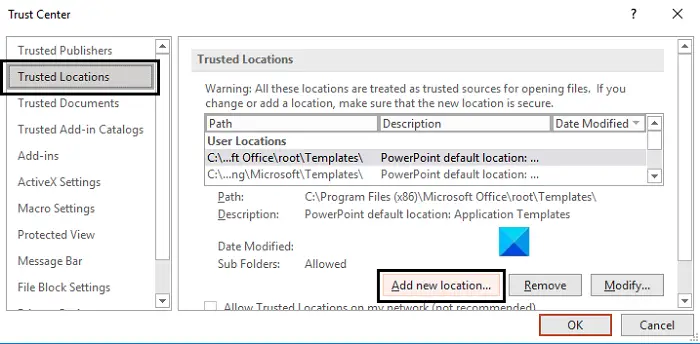 This will open a separate dialog box. If you don't have the address of your location, you can browse for it. Select the one where the problematic file is saved and click on Ok.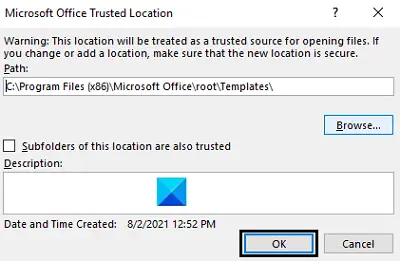 The change will take effect once you restart PowerPoint so do so and check if the issue has been resolved.
5] Move the PPTX file to an unsynchronized folder
If you're trying to access the PPTX file while it is located in, for example, a Dropbox folder, it is possible that you may encounter this error, because these folders are synced to create a backup. If this is the cause of the problem, you need to take the PowerPoint file in question and place it in an unsynchronized folder.
The process is very simple. First, locate where the file originally is and right-click on it. Select Cut to move it
Now, paste this file in a regular directory on your PC like the Desktop or Documents
Try opening the file to check if you've gotten rid of the error.
How do I fix an unstable PowerPoint?
Another very common error with PowerPoint is "Something went wrong that might make PowerPoint unstable" and it has a couple of solutions for that problem. Some of them are:
Starting PowerPoint in safe mode
Repairing Microsoft Office
Running PowerPoint as administrator
Why is my PowerPoint not responding?
If you ever experience your PowerPoint hanging and freezing too much or if it stops responding, there are a few things you can do to remediate that. Possible solutions for the problem are to check for antivirus, repair MS Office and make sure that your computer is up and running with the latest Microsoft updates. You can visit Microsoft.com to know more in detail about what you can do to fix this issue.
We hope that this article was able to bring clarity about the PowerPoint error "PowerPoint found a problem with content" and that you will now be able to deal with it appropriately.