Sometimes, when launching an Office program, you may get an error saying, "Something went wrong, We couldn't start your program." You may have an issue with the Office file, and any app you try to launch gives you the same error. It applies to Microsoft Office, Office for Business, and Office 365 Home and Business editions. In this guide, we will help you fix this problem.
Office error – Something went wrong, We couldn't start your program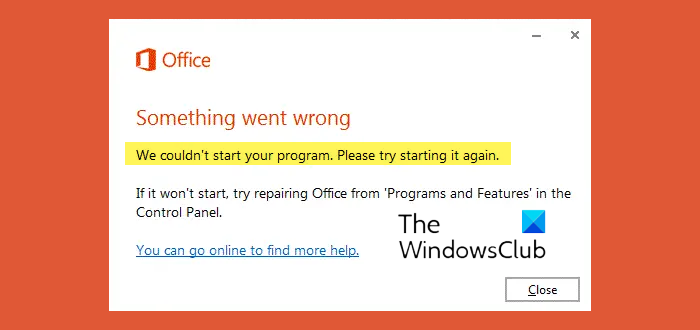 1] Restart your device
It is possible that apps might be getting stuck because of the background process. That process could be blocking the app launch. So, at least wait for a few minutes, restart your device, and then relaunch the app. You can also try to sign-in back with the Microsoft account connected to your Office.
If you are not sure which account you were using, follow the steps to figure it out.
Open any Office App.
Click on File, and then look for your name on top-right.
Click on it, and will reveal the email or Microsoft account related to Office.
2] Repair Office from Apps and Features
Windows 11/10 offers repair features that replace some of the core files with original files.
Open Windows Settings, and then select Apps and Features.
Scroll to find your Microsoft Office installation, click on it, and then click on  Modify.
It will open a window.
Choose Quick Repair or Online Repair and then click on the Repair button.
When you choose to repair, you might get two options. It depends on how the Microsoft Office was installed, i.e., Web Installer or Offline installer (MSI-based).
Web Installer: When prompted how would you like to repair Office, select Online Repair > Repair. Do not use the quick repair option here.
MSI-based: In "Change your installation", select Repair and then click Continue.
The repair process makes sure that the app data remains untouched.
Read: Fix Office Errors 30029-4, 30029-1011, 30094-1011, 30183-39, 30088-4
3] Try Reinstalling Office
If both the steps don't work, it is best to reinstall Office. Make sure to use the Microsoft Office Uninstall Tool to uninstall Office completely and then reinstall it. If, during reinstallation, Office is taking a long to install, you can choose to download the offline installer and then complete the installation process. Make sure to select the correct version during office installation.
TIP: You can use Microsoft Support and Recovery Assistant to fix Office problems.
Let us know if it helped you to fix the issue for "Something went wrong" error when you try to start an Office app.