While browsing the web with the Microsoft Edge browser on Windows 10 recently, I got to see the following message in the top right corner – Something missing on the page? To help you stay safe, we've blocked Adobe Flash. I was wondering what this was all about.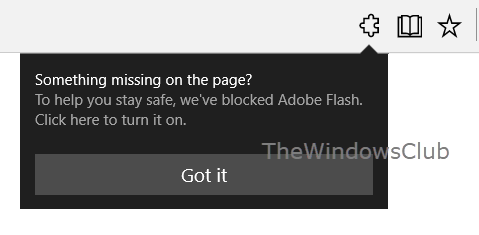 Well, it seems that Microsoft Edge will now inform its users if it has blocked the loading of some web elements of a web page. In this case, Edge had blocked the loading of the Flash Player.
Something missing on the page – Edge
To turn it on, you have to click on the icon there. If you click on Got it, it will not be turned on, and you will not be reminded again about this.
Now, if you were to click on the Broken content icon you see, you would be offered to Allow it once or to Allow it always. Once you have exercised your option, you will not be able to change it easily.
You will need to open Edge Settings > Choose what to clear > Show more > Uncheck Adobe Flash permissions.
Adobe Flash is used for games and video content. But it is often exploited, so you need to keep it updated constantly. Running outdated Flash can make your system vulnerable.
This feature in Edge is there to keep you safe.
Related read: How to disable or enable Adobe Flash Player in IE, Chrome, Firefox, Edge, Opera.
How to Play Adobe Flash Games on PC or Browser?
You can develop a custom Adobe AIR application, or apps such as Ruffle, Adobe Animate, and Flashpoint can also help. Some of these are needed by animators, while others use a sandbox to run Flash on a local PC.
Why was Adobe Flash Cancelled?
Modern web standards have also led to a decline in Flash's usage as some of its use cases can now be fulfilled without third-party plugins. Adobe eventually deprecated the platform as a result. Two days after Flash Player's official discontinuation, its download page was removed.