Some users of Microsoft Store recently reported seeing this error message when trying to access the Store – Something bad happened, Unknown layout specified in manifest. If you are facing this issue, here is what you can do to fix this issue.
Something bad happened, Unknown layout specified in manifest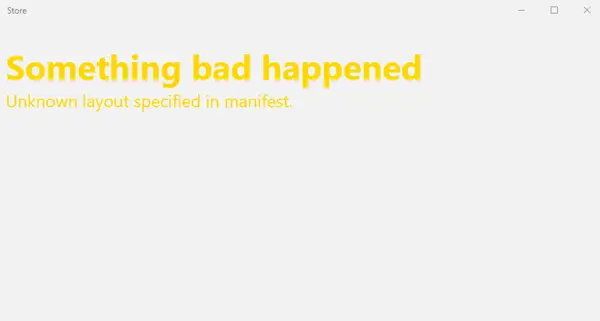 Before you begin, you need to know that Microsoft is aware of this issue of Windows Store temporarily not being available to some users. Nevertheless, here are a few things you could do to address the issue.
1] Reset the Windows Store
Open the Start Menu and click on the Settings icon. Next, click 0n System and then on Apps & features in the left panel. Having done that, you will see the following window.
Next, identify the Windows Store app and click on it. The panel will expand, and you will see the link for Advanced options. Click on it, and the following window will open.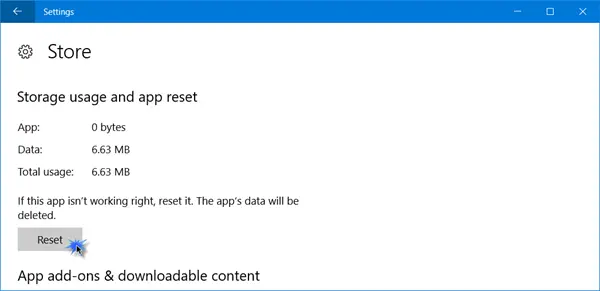 Here, you will have to click on the Reset button, to reset the app. Clicking on it will open the following warning window, telling you that the app's data will be deleted and preferences reset.
Click on Reset. In a few seconds, you will see a checkmark next to the reset button, indicating that the operation has been completed successfully.
2] Check Region & Language Settings
Open Time and Language Settings and check if your Region & Language settings have changed somehow. Restore your preferences and see. Some users have reported that changing their Region & Language setting to the UK helped.
See if this helps in your case.
3] Reset Windows Store Cache
See this post if you think your Windows Store Cache may have been damaged.
4] Windows Store Apps Troubleshooter
Run the Windows Store Apps Troubleshooter and see if it helps.
Hope something helps!