The Elder Scroll V: Skyrim is an excellent action game. However, a lot of users are deprived of this excellence, according to them, Skyrim keeps freezing or crashing constantly on startup making the game unplayable.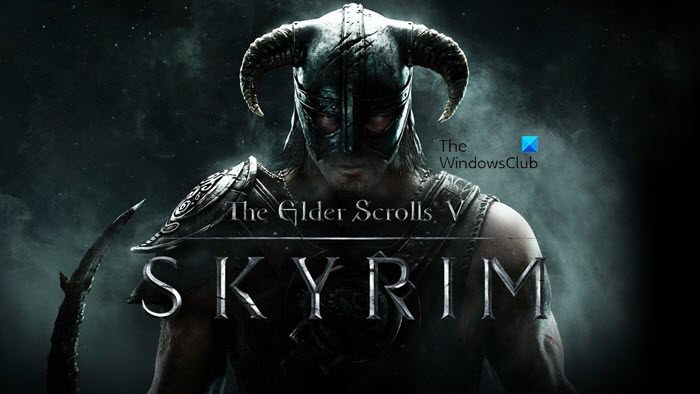 Why does Skyrim keep freezing PC?
Skyrim is a graphically intensive game, if you fail to meet the system requirements, you will experience difficulty when trying to run it on your system. Meeting system requirements won't ensure you smooth gameplay, running a ton of tasks in the background, playing the game at high graphics settings, etc can also make your game crawl.
Skyrim keeps crashing or freezing on Windows PC
If Skyrim keeps crashing, freezing, closing itself, or minimizing on Windows 11/10 PC here are some suggestions to fix the issue successfully.
Check the Task Manager
Update your game
Try Manual Save
Lower In-Game Settings
Disable Mods and see
Repair Game Files
Update your Graphics Drivers
Troubleshoot in Clean Boot
Let us talk about them in detail.
1] Check the Task Manager
Let us start by checking the Task Manager and see if any redundant tasks are running in the background and taking a toll on your CPU. Apps such as Discord, Chrome, etc tend to take a lot of RAM and processing power. You need to right-click on the app and select End Task. Hopefully, this will do the trick for you if your game is freezing.
2] Update your game
Maybe your game is crashing and freezing because of a bug. When you launch your launcher and then open the game, it automatically detects available updates and then downloads them to your system. If the developers have released a bug-fix, your issue will be resolved, if not, move to the next solution.
3] Try Manual Save
On some versions of Skyrim, the issue is caused due to a bug that's stopping the game from auto-saving and when trying to do so, the game is crashing. We are going to switch to manual saving and delete all the auto-save files.
Open the game and press Esc.
Select Save. Remember, this is how you have to save the game every time until an update is available.
Go to the following location.
C:\Users\[UserName]\Documents\My Games\Skyrim\Saves
Now, delete autosave files.
Finally, restart the game and see if the issue persists.
4] Lower In-game Settings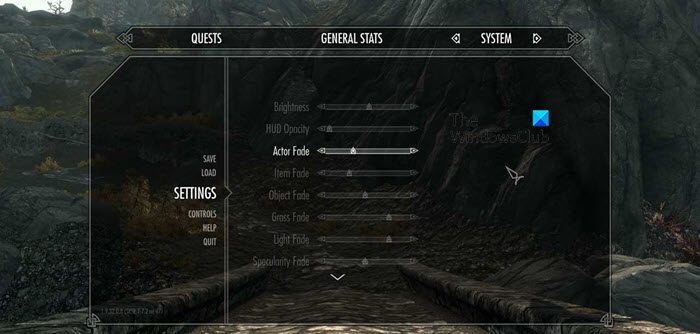 Next up, try lowering the in-game graphics settings as that will allow the game to put less strain on your computer. This way, your game will stutter less and churn out a good experience. It is a trade-off that you need to make if your computer is not meeting the recommended system requirements or if you are constantly experiencing crashing and freezing. So, head to the Main Menu > Options > Advanced Options and disable unnecessary Graphics features, also, make sure to lower Shadow Settings. Hopefully, this will do the trick for you.
5] Disable Mods and see
Sometimes, Skyrim mods can be the reason behind abrupt crashes. You should disable the Mods and see how the game performs. If it's neither freezing nor crashing, you know what the problem is. Now, if you have a ton of mods, try manually enabling one-by-one and which one is causing the problem. Sometimes, it's not a specific mod, but the game crashes by the virtue of having a mod attached to it. In that case, it would be better to run the game without any mod.
6] Repair Game Files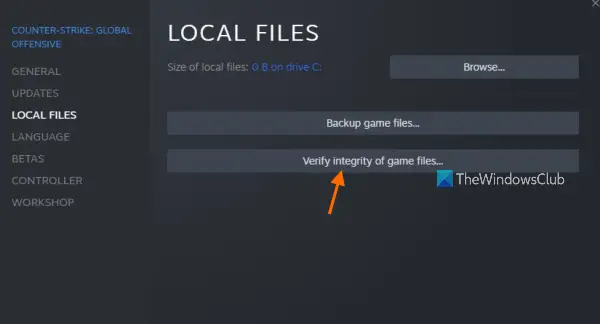 Now, we are going to try and repair the game files. These game files can get corrupted pretty easily and the launcher on which you have bought the game is pretty aware of this. That's why they have included an option to repair corrupted files. Follow the prescribed steps to do the same.
Open Steam.
Go to Library.
Right-click on your game and select Properties.
Click on Local Files > Verify integrity of game files.
Wait for the issue to be resolved.
7] Update your Graphics Drivers
We don't want your game to not run on your PC because of incompatibility. We need to update the Graphics Drivers and hopefully, the issue will be resolved.
Following are some of the ways to update Graphics Drivers.
Hopefully, this will do the trick for you.
7] Troubleshoot in Clean Boot
Mostly, overclocking software is responsible for the issue in question, but we can't ask you to delete the overclocking app without any conclusive evidence. So, perform Clean Boot, manually disable processes one by one and see which app is the culprit. Then remove it to resolve the issue.
System Requirement of The Elder Scrolls V: Skyrim
If you want to play the game, make sure to meet the following system requirement.
Minimum
OS: Windows 7/8.1/10 (64-bit Version)
Processor: Intel i5-750/AMD Phenom II X4-945
RAM: 8 GB
Graphics: NVIDIA GTX 470 1GB /AMD HD 7870 2GB
Storage: 12 GB available space
Recommended
OS: Windows 7/8.1/10 (64-bit Version)
Processor: Intel i5-2400/AMD FX-8320
RAM: 8 GB
Graphics: NVIDIA GTX 780 3GB /AMD R9 290 4GB
Storage: 12 GB available space
That's it!
How do I find out why Skyrim keeps crashing?
You should execute the solutions mentioned here and see which one works for you. We have mentioned solutions for every possible reason. So, if a fix worked for you, you would know what the reason is.
Also Check: Rogue Company keeps crashing, freezing, lagging or stuttering.