Video files are usually large and take up a lot of space on the disk. More importantly, if the video file is raw and has been taken unprocessed from a camera then it might have an even larger size. Video files are compressible to some extent. But you lose out on quality if you compress the videos a lot. Finding a perfect balance between compression and quality is what is desired most of the time. In this post, we've covered a tool called 'Simple Video Compressor' that lets you reduce the size of your video files through a simple GUI.
Simple Video Compressor for PC
As the name suggests, the tool itself is very simple to use. It offers a minimalistic UI and easy to understand operations. The tool is donationware and while installation it might request you to install some sponsored content, you can skip it.
To get started, you need to add videos that you want to compress. You can add multiple videos or an entire folder. Moreover, you can import the videos using a text, CSV or an excel file. This feature can help you out if you have already indexed the video files in a text file.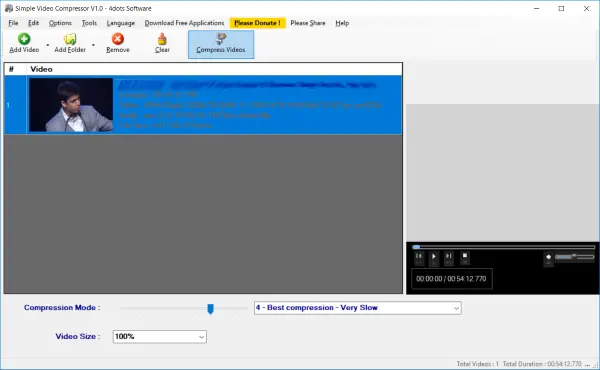 Compress videos to reduce the size
Once the videos are added, you can verify them by simply reading through the details or by using the video player on the right side. Now you can select the compression mode depending upon your requirements. The 12-level slider can be adjusted to select a combination of compression and quality. Alternatively, you can also use the drop-down to select the compression level. Remember, more the compression level, lower the quality.
The 'Video Size' drop-down lets you resize the videos by specifying the absolute percentage. You can easily resize your videos if you wish to post them on social media or other platforms.
Once you are done adjusting the compression level, you can hit F6 or the 'Compress Videos' button to start compression. Compression can take longer depending on the level of compression. The progress bar gives you an idea about the total progress and the program will also display the time remaining until completion. You can pause the compression in between and resume it whenever you want.
The tool also integrates well into the right-click menu of Windows Explorer. You can simply right-click a video and select 'Compress with Simple Video Compressor'. The compression will start for the select file.
Simple Video Compressor can also be used to join different videos into one. All you need to do is open the join files dialog and enter the path to files to be joined.
The tool offers various other customizations as well. You can manually set an output file or specify a pattern for output files. Moreover, you can also specify the output folder and an operation to perform if the file already exists.
Other than that, you can also choose an action that should be performed once the file compression has completed. The tool offers various actions like Shutdown, Sleep, Logout, Explore output file, etc.
Simple Video Compressor is a must-have if you compress a lot of videos. It does what it says and gets the job done. It is a very simple and basic tool. There are a lot of video suites available but if you are looking for something to just compress the videos, then this tool might be it.
Click here to download Simple Video Compressor. You may want to also take a look at these tools to reduce Video file size online and offline.
TIP: MP3 Quality Modifier can help you reduce MP3 file size.