Windows Mail App is designed to enable fast communication and allow you to focus on what's important across all your accounts. The app, by default, displays a circle with sender's initials or pictures adjacent to an email message in the list. It helps us easily find the email or message we are looking for. However, on some occasions, the app may fail to display the sender's image. If you want to have this issue resolved, read further.
Show Sender's Pictures in Mail App of Windows
Firstly, there is no essential requirement to change the default picture download settings in Outlook/Mail app to enable the downloading of pictures from the Internet. Also, it refuses to work via this option of downloading the pictures; it won't work with the options disabled in Trust Center either.
Locate the Windows Mail app and open it. When opened, go to the left-bottom corner and click the gear icon to open the Settings menu.
Once there, choose the option that reads as 'Reading pane'.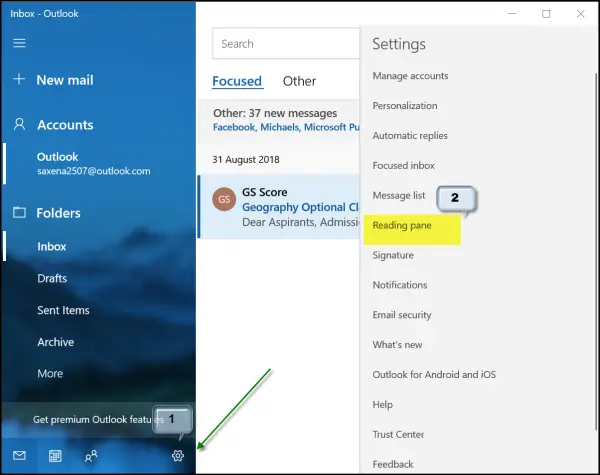 Now, Scroll down to the External content heading.
There, check the box marked against 'Apply to all accounts' option, and turn on 'Automatically download external images and style formats'.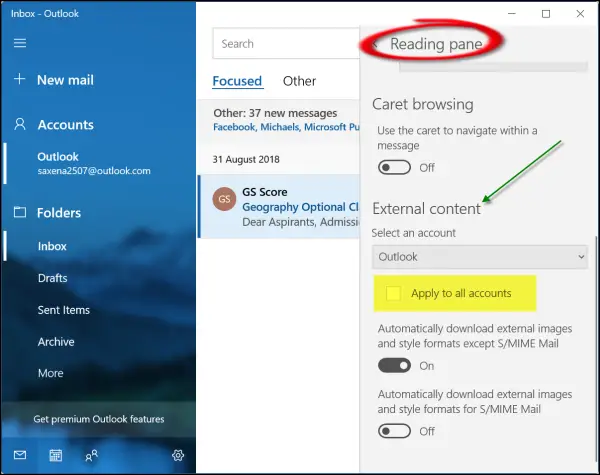 When done, return to one of your email messages with images to check if it is fine. The issue should be resolved.
Mail app Sender Picture not being displayed

For this, open the Mail app, click on the Settings button at the bottom of the left pane, and select Manage Accounts option. Click on the account to delete the email account.
Next, open the Settings app and look for Apps > Apps & features. Select the Mail and Calendar app and then, choose the Advanced options link. Click the Reset button and when prompted, confirm the action.
Restart Windows 11/10.
Hereafter, when you log into your Windows account, and open the Mail app after adding your email account back, you should notice the images reappearing.
Also, you can verify if you have disabled 'Show sender Pictures' option or not. For this, again go back to the settings menu and select 'Message List' option just above the 'Reading pane'.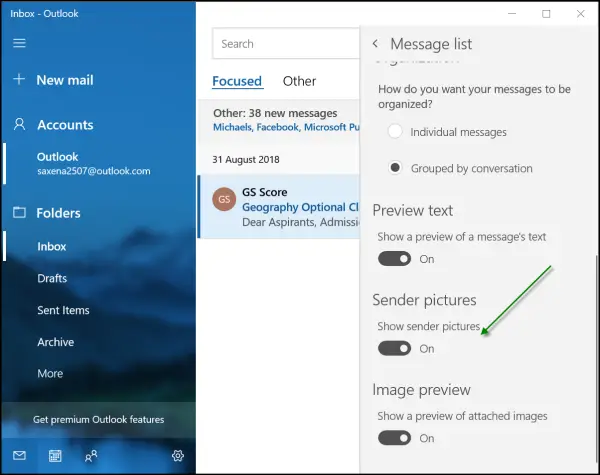 Scroll down and see if you have set 'Show sender pictures' option to 'On'. If not, just set the slider to 'On' position.
That's it!