For your convenience, Windows 11/10 displays the programs you installed last, in the Start Menu, under the Recently added list, so that you easily open it. We have seen how to remove the items in Most Used list. Today, let us see how to show or hide the Recently added apps in the Start Menu of Windows 11/10.
Remove Recently added app from Start Menu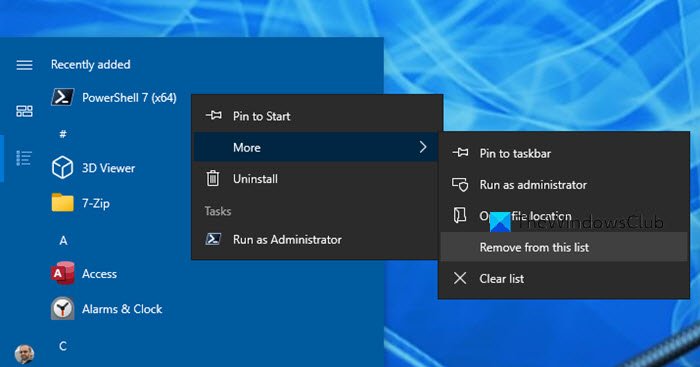 If you wish to simply remove a particular software from the Recently added list:
Open your Start Menu
Right-click on the item under Recently added
Select More > Remove from this list.
That particular item will not be displayed, when you close and re-open your Start Menu.
Hide Recently added apps group in Start Menu
If you wish to hide the full Recently added app group in the Windows 11/10 Start Menu, you can do the following.
Open Windows Settings app > Personalization > Start.
Under the Customize list, you will see Show the recently added apps. Move the slider button to the Off position.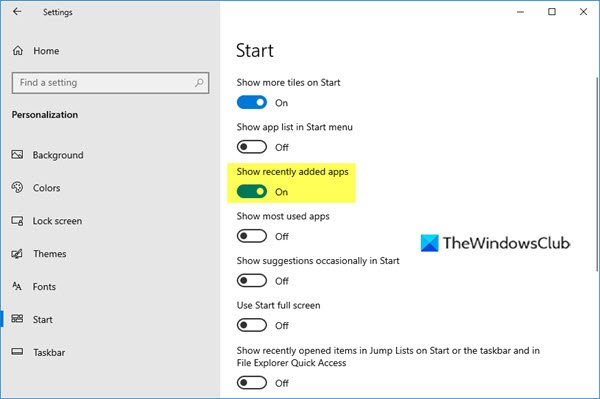 Open your Start Menu now and you will see that this Recently added apps group is not displayed at all.
There are several such Windows 10 Start customization tips that will personalize your Windows computing experience. Take a look at them!