Windows 10 Start offers you several customization options. It has a new look and several new features to enrich your Windows experience. It displays Live Tiles and more! It even displays a list of your Most used files, folders and applications for convenience, knowing that you might want to use these again and again. For privacy purposes, some of you may not want to display these item. Let us see how you can remove the Most Used list from the Windows 10 Start Menu – totally or select items only. We will also see how you can add your favorite places here.
Remove Most Used list from Windows 10 Start Menu
Open the Settings app and click on Personalization and then Start.
Under Customize list, you will see Store and display recently opened programs in Start. Toggle the switch to the Off position.
Now open Start Menu and you will an empty space.
Read: How to clear Recent Files and Folders in Windows 10.
Add folders and items to Windows 10 Start
If you wish, you can add some of  the folders and places you frequently visit here, to fill up this empty space. To do so you will have enter the customize Start Menu list.
Click on the Customize list link to open the following settings panel. You can refer the above image. This lets you customize which places to link to, in your Windows 10 Start quick links section.
Here you can add important items like Settings, Documents, Download folder, etc, to fill in the created gap. Select the once you want by toggling the switch and you will see them appear in your Start.
Hide particular program from Most used list
If you want to hide only select or particular programs in the Most Used list, then you can simply right-click on that item and click on Don't show in this list.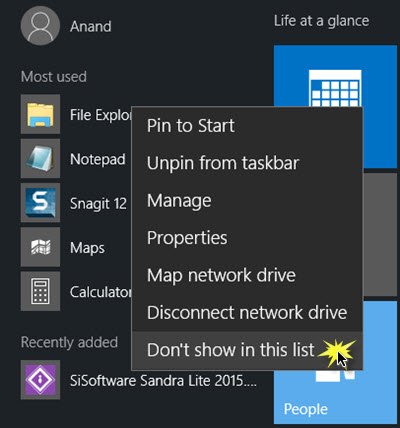 Hope this helps!
Go here if you want to hide Recently added apps group in Windows 10 Start Menu.