The System File Checker or SFC is a system tool that can allow users to scan for and restore corrupt Windows system files.  It is integrated with Windows Resource Protection, which protects registry keys and folders as well as critical system files.  If there is a file integrity issue, SFC can fix it. However, if you run it, and it fails to run or could not repair, then this post will help you fix it.
SFC not working or will not run in Windows 11/10
Sometimes you may have to run the SFC two or three times or run it in safe mode. If for some reason, you find that your System File Checker is not working or will not run or could not repair, you can try and repair the Component Store and see if it helps.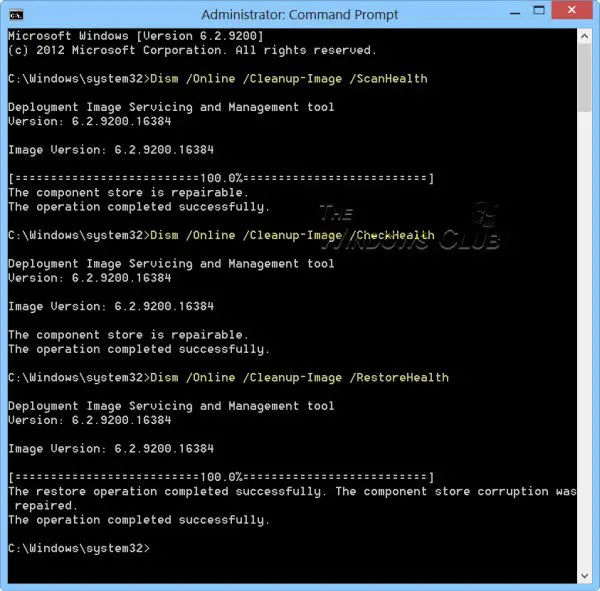 To do so, run CMD as an administrator. Type the following and hit Enter. This could take up to 15 minutes. After the task is over, restart the computer and see if it has helped:
Dism /Online /Cleanup-Image /RestoreHealth
You could also try and run System File Checker in Safe Mode, Boot Time, or Offline.
Read:
System File Checker cannot repair corrupted member file
If you face this issue, you will replace the corrupt file manually with a forking file. You will have to find the DLL from Windows ISO or another computer.  Make a note of the file path which is corrupted, and copy a fresh version of the file to your computer.
Then, open Command Prompt with admin permission by typing cmd in the Run prompt (Win + R), and then pressing Shift + Enter.
Type the following in the command prompt and press enter. The Takedown command will grant you access so that the file can be overwritten by a new one.
takeown /f Path_And_File_Name
Where Path_And_File_Name is the exact location of the corrupted file.
Execute the following command to grant administrators full access to the file.
The icacls command can display or modify discretionary access control lists (DACLs) on specified files.
icacls Path_And_File_Name /GRANT ADMINISTRATORS:F
For example, type:
icacls C:\Windows\system32\corruptfile.dll /grant administrators:F
Then manually replace the file with a known good copy of the file:
Copy Path_And_File_Name_Of_Source_File Path_And_File_Name_Of_Destination
For example, type:
copy E:\temp\corruptfile.dll E:\windows\system32\corruptfile.dll
If nothing else works, then you may try a System Restore, Refresh PC, or Reset PC.
I hope you were able to resolve the issue.
Now read: How to scan & repair a single file using System File Checker.