We have already seen how the System File Checker allows users to scan for and restore corrupt Windows system files. We have also seen how to run System File Checker and more, earlier. But what if at the end of the run you see the following message?
Windows Resource Protection found corrupt files but was unable to fix some of them. Details are included in the CBS.Log windir\Logs\CBS\CBS.log.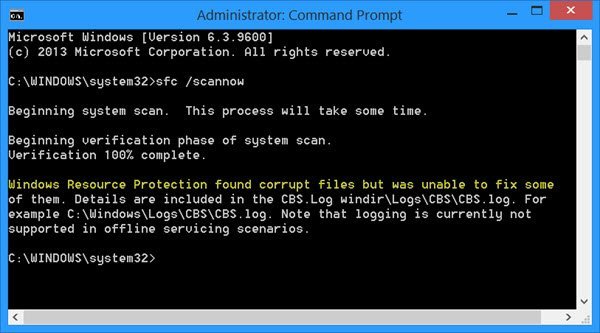 What this message says is that although the System File Checker completed the scan and found corrupted system files, it was unable to proceed and replace them with good system files.
The Windows Resource Protection protects registry keys and folders as well as critical system files. If any changes are detected to a protected system file, the modified file is restored from a cached copy located in the Windows folder itself.
Windows Resource Protection found corrupt files but was unable to fix some of them
If you receive this message and the System File Checker is not able to do its job when you run it, here are a few things you can try.
Run SFC at Safe Mode
Run SFC at Boot-Time
Use DISM
Try Reset This PC or Fresh Start
Check the Log files
You will need admin permission to execute these suggestions.
1]  Run SFC in Safe Mode
Boot into Safe Mode. Open an elevated command prompt window, type sfc/scannow, and press the Enter key.
Just make sure that the PendingDeletes and PendingRenames folders exist under %WinDir%\WinSxS\Temp. This may help if some start-up programs are creating a problem.
2] Run SFC at Boot Time
If you wish to or need to, you may run System File Checker at Boot Time. This is one option that may help you as it will run System File Checker before Windows loads.
Go here to learn how to run sfc /scannow at Boot Time. See if this helps.
3] Use DISM
Use DISM. Open an elevated command prompt and run the following command and hit Enter:
Dism /Online /Cleanup-Image /RestoreHealth
This command checks for component store corruption, records the corruption, and FIXES the corruption. It may take a while though! Useful if System File Checker is not working.
4] Try Reset This PC or Fresh Start
On Windows 11/10, try Reset This PC or  Fresh Start. On Windows 8.1, carry out a Refresh or a Reset operation. An Automatic Repair is also an option you may want to consider if you think it applies in your situation.  On Windows 7, carry out a Startup Repair or Repair Install or an In-place Upgrade as you think may best suit your situation.
To perform an In-place upgrade in Windows 7 or Windows Vista, back up your documents, close all open applications, and then insert the Windows DVD in the DVD drive. In the Setup window, click Install Now. Click Go online to obtain the latest updates for installation (recommended). Type the CD key if you are prompted to do this. Next, select the operating system on the Install Windows page you want to Upgrade or In-place and click Yes to accept the Microsoft Software License Terms. Next click Upgrade when asked Which type of installation do you want. Once the process is completed, restart your PC.
5] Check the Log files
You may also want to consider this option. Open the CBS.log file and view details of the corrupted files and replace the corrupted file with a known good copy manually. Navigate to C:\Windows\Logs\CBS you will be able to see and open the SBS.log file.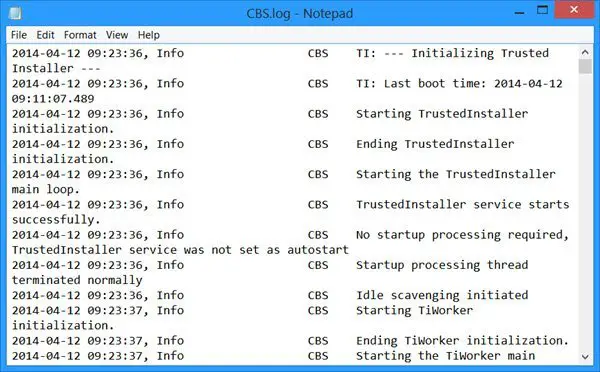 Check if it shows some errors or a message. That may give you a direction to proceed. You can get more details on how to do this manually, here at KB929833.
I hope something helps you.
How do I fix a corrupted CBS log file?
If the CBS log file is corrupted there is actually nothing else you can do. The best way would be to delete it and then ret Windows recreate it when the need arises.
How do I fix corrupted files in SFC Scannow?
To fix corrupted files that SFC Scannow cannot fix, you need to run the DISM Tool or use the Reset This PC option. That is sure to help you.
Can I recover corrupt files?
Since it is already corrupted, there is not much you can do about it. The only thing you should do is find what is causing the corruption and then collect the log again. If at all, then the SFC command may help, but then there is no guarantee about it.
What causes files to corrupt?
It is difficult to pinpoint one reason, but it can be both software and hardware problem. If the data that is collected gets overlapped by another program, then it can corrupt the software. Hardware corruption usually happens on old data, but if you are seeing it in more than one place, you need to check your device.
These links may interest some of you: