On my Windows PC, when I try to open a link, it opens in Internet Explorer – even though I have set my default browser like Google Chrome. So how is this possible? You can set Chrome as the default browser while installing it when you are offered the option to Set Google Chrome as my default browser.
You can also set the browser as the default via the browser's Setting. But in spite of setting it as the default browser, my links continued to open in Internet Explorer! Well, I finally fixed the issue.
Cannot set Chrome as Default Browser in Windows
If you cannot set Chrome as the default browser in Windows 10, try the following:
1] Via Control Panel
Press Windows Key + Q to get search box. Type default and you'll get Default Programs as a result.
Click on that to get this window.
Finally, select Google Chrome and click Set this program as default. Click OK.
2] Via Browser settings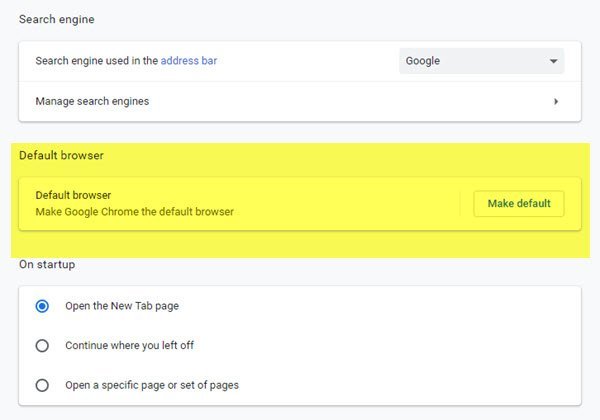 Open Chrome browser > Settings. Here press the Make default button.
3] Via Windows 10 Settings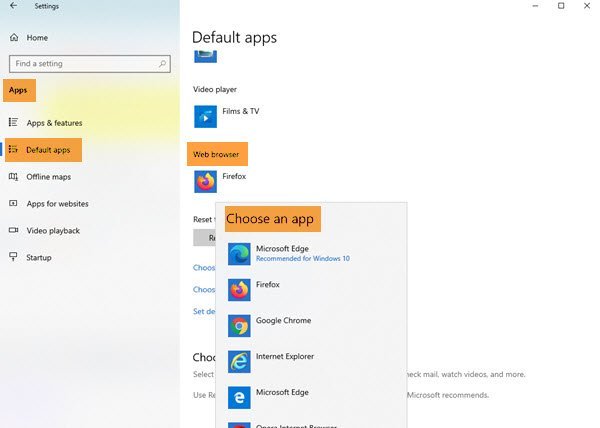 Open Settings > Apps > Default apps > Web browser and choose Google Chrome.
4] Registry fix
But if it still doesn't help, I have a straight-forward solution. I have exported the concerned registry keys from my Windows registry; which has Google Chrome set as default browser and have created a registry fix file, which you can download using the below-mentioned link.
All you need to do is create a system restore point first and then open the file with Registry Editor and its contents to your Registry and reboot to see results.
Download : Registry fix to set Chrome as the default browser.
You can see which helps you.