Microsoft offers the Edge browser for Microsoft Edge for Android and iOS devices too. The Microsoft Edge Android app is not just another browser available for Android phones and tablets. It has some Microsoft-specific features too that help the users be more productive and makes Edge far more useful by differentiating it from others.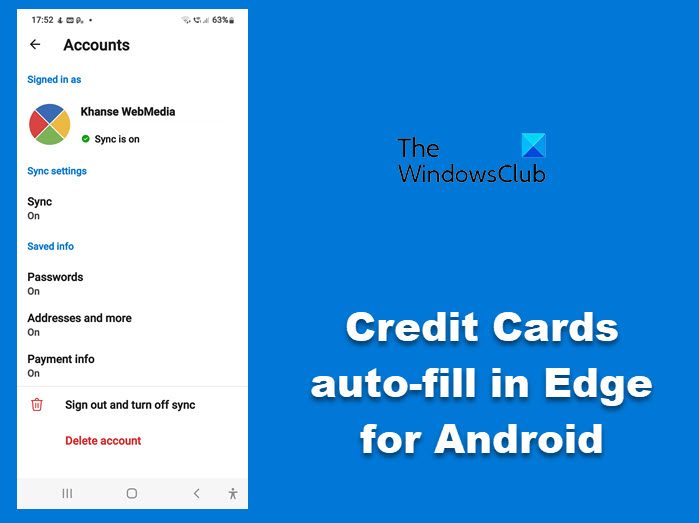 What Google did for Google Chrome on Android devices is that it fetches your details which filling a specific type of form. Similarly, Microsoft is working on enabling Microsoft Edge to compete with Google with a similar service. There are two main features of automated form filling that Microsoft Edge for Android phones supports. They are as follows:
Passwords
Address and more
Payment info – Credit Card Autofill.
Credit Cards auto-fill in Edge for Android
Well, this feature will fasten the process in the given course of time when you make a transaction from your Credit Card using Microsoft Edge Chromium on Android phones and tablets.
You can configure this feature on your Android phone or tablet device.
First, you will have to open Microsoft Edge web browser app on your Android device.
Then tap on the More button, i.e. […] in the bottom center of the screen
In a pop-up menu, you will find the field labeled Settings that will take you to the settings menu inside Microsoft Edge.
Make sure that you have turned Sync On.
Slecet the account that you are signed in with.
Now, find a menu that says Payment info, ensure that it is turned On and tap on it
Click on the '+' sign to Add a Card manually
In the next screen, add all the details and click on Done.
Now, your Credit Cards' details will be auto-filled every time you make a transaction using the Microsoft Edge web browser app on your Android devices that are signed in with the same Microsoft Account.
How do I customize Microsoft Edge on Android?
You can customize Edge on Android in different ways to make your experience better. You can set a new tab page or a specific page as your Home page. The default search engine in Edge is Bing. If you want to change it, you can do it in Settings. Sign in to Edge on Android with the same Microsoft account to sync data between Edge on your smartphone and Edge on your computer.
Is Microsoft Edge better than Chrome on Android phones?
Google Chrome is the pre-installed and default web browser in Android smartphones. If you want to use another web browser, you can install it from Google Play Store. When it comes to comparison between Edge and Chrome on Android smartphones, different users have different opinions. It completely depends on a user's experience and which browser he likes to use on his smartphone. Hence, there is no straightforward answer to this question.
This post shows how to Add, Remove, Manage Credit Cards in Microsoft Edge on Windows.