Apart from Windows, Microsoft Edge Browser is available for mobile iOS and Android devices. As such, it guarantees a continuous browsing experience from your mobile device to your Windows PC. This is especially beneficial in cases where you want the webpage on your phone to be screened on your PC screen for a more detailed or perhaps in-depth view. Fortunately, the latest Windows Update makes it easy to send web pages from your iPhone to Windows PC.
Microsoft Edge browser offers an alternative experience for browsing the web. Some of its features like the Hub allow you to organize the web in a way that makes it easier to find, view and manage your content on-the-go. Your stuff syncs in the background, letting you browse across devices.
Send web page URL from Phone to PC
On your PC, click on the Start button, choose Settings and then select 'Phone'. Next, select 'Add a phone', then follow the instructions to enter your phone number.
When you enter your phone number and hit the 'Send' button on your PC, a text message from Microsoft is sent to your phone. Once you receive the text, open it and tap the link.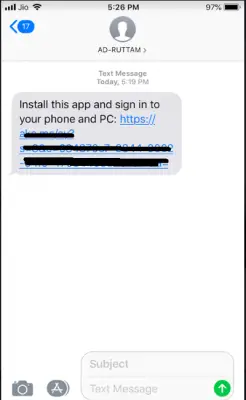 The link will open the App Store (on iPhones) to the Microsoft Edge app that links your phone and PC. On an Android phone, it will open the Google Play Store.
Install the app.
When done, open the app, sign in with Microsoft account.
Go to the website you want to be opened in Microsoft Edge on your iPhone (or Android) and on your Windows 10 PC.
Click/tap on the Continue on PC button. Next, click the computer name or Continue later if you want to postpone your action.
If you tap on the computer name, this webpage opens immediately in a new tab in Microsoft Edge on the PC.
If you tap on Continue later, a notification will be sent to your linked PCs. You can click on the notification when you are all set to open the webpage in a new tab in Microsoft Edge on the PCs.
If you would like to know the method of mirroring content from Android phone to Windows 10 PC, see our earlier post on Your Phone App.